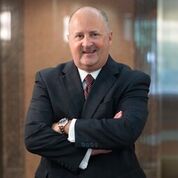 Michael S Hale
360 Risk Management
21500 Haggerty Rd., Ste 140


Northville, MI 48167
Introduction
Michael Hale is a principal with the insurance and risk management firms 360 Risk Management Inc. and Clairmont Advisors LLC, both based in Northville, Michigan. He is also the founder of the law firm of Hale & Hirn PLLC, which specializes in insurance and risk management matters.

A 1994 graduate cum laude of Michigan State University School of Law, he started his legal career in 1994 with the law firm of Plunkett & Cooney, P.C. with a practice concentration on insurance coverage matters.

Michael has been retained as an expert witness in over two hundred cases involving insurance coverages and agent errors and omissions issues since 2000 and is regularly consulted by attorneys throughout the United States on related issues.
Hale has earned the nationally recognized certifications of Chartered Property and Casualty Underwriter (CPCU) and Accredited Advisor in Insurance (AAI).

As an attorney, he has represented both insurance companies and policyholders in coverage matters.
He was named Leader in the Law by Michigan Lawyers Weekly in 2017 and 2008. Hale has been published in many legal and insurance publications, including The Michigan Bar Journal, Michigan Lawyers Weekly, and The CPCU Journal.
---
Areas of Expertise
Auto Insurance
Bad Faith
Business/Employment Insurance
Homeowner's Insurance
Insurance
Insurance Agency
Insurance Agent/Broker
Insurance Customs & Practices
Insurance Excess & Surplus Lines
Property & Casualty Insurance
---
Expert Background
Q:

Please list your professional accreditations, degrees, licenses, and certificates granted:

A:

CPCU
AAI
Law Degree - 1994

Q:

Please list your affiliations or memberships in any professional and/or industry organizations:

A:

Federal Bar Association
State Bar of Michigan

Q:

Please list any teaching or speaking experience you have had, including subject matter:

A:

See C.V. I have taught insurance for many years including at the University level.

Q:

Have any of your accreditations ever been investigated, suspended or removed? (if yes, explain)

A:

No.

Q:

On how many occasions have you been retained as an expert?

A:

200+

Q:

For what area(s) of expertise have you been retained as an expert?

A:

Agent E & O, broker standard of care, insurance coverage, business insurance, personal insurance, homeowners, commercial property, cyber

Q:

In what percentage of your cases were you retained by the plaintiff?

A:

70%

Q:

In what percentage of your cases were you retained by the defendant?

A:

30%

Q:

On how many occasions have you had your deposition taken?

A:

30 plus

Q:

When was the last time you had your deposition taken?

A:

2023

Q:

On how many occasions have you been qualified by a court to give expert testimony?

A:

5 or more

Q:

On how many occasions have you testified as an expert in court or before an arbitrator?

A:

5 or more

Q:

For how many years have you worked with the legal industry as an expert?

A:

20

Q:

What services do you offer? (E.g.: consulting, testing, reports, site inspections etc.)

A:

Consulting, testimony, coverage denial reviews

Q:

What is your hourly rate to consult with an attorney?

A:

$350

Q:

What is your hourly rate to review documents?

A:

$350

Q:

What is your hourly rate to provide deposition testimony?

A:

$400

Q:

What is your hourly rate to provide testimony at trial?

A:

$400

Q:

Please list any fees other than those stated above (E.g.: travel expenses, copy fees, etc.)

A:

None
---
---