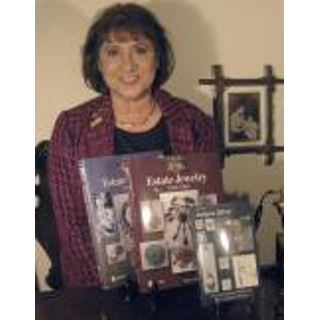 Ms. Diana L Sanders Cinamon
Specialty Appraisals
P.O. Box 3724


San Bernardino, CA 92413
Office: 877-255-5445
Fax: 909-474-2048
Introduction
Diana Sanders Cinamon is a graduate of the College for Appraisers, carrying the designation of GCA (Graduate Certified Appraiser). Ms. Cinamon is also a certified gemologist, graduating from Santiago Canyon College (CG, SCC). In addition, she is a CSU Long Beach graduate with course work in fine art.

Ms. Cinamon teaches Appraisal Theory for the gemology department at Santiago Canyon College in Orange County. She is USPAP compliant with all certificates of completion issued by an AQB certified USPAP instructor.

She has taught for several college districts offering classes on various disciplines within the antiques venue including furniture, glass, pottery, metals, and jewelry.

Ms. Cinamon has a specialty in antique metals, which includes coins, and antique jewelry and has written two books, All About Antique Silver with International Hallmarks, and Estate Jewelry, 1760 to 1960. The 2nd edition of her jewelry book was released in June, 2014.

Her education, experience, and teaching skills have given her a solid background with which to build her reputation as an effective and proficient antique appraiser. Since most appraisals involve entire estates she also excels as a fine art appraiser, jewelry appraiser, and a residential contents appraiser.

Ms. Cinamon's primary service area includes Los Angeles County, Ventura County, Orange County, Riverside County, and San Bernardino County. Per Diem expenses and travel time will apply to all other services areas.

Ms. Cinamon understands that court proceedings require maximum mental effort, and can be adversarial. She believes that a well-researched, USPAP compliant document provides the foundation for competent and confident testimony.
---
Areas of Expertise
Antiques, Art, & Collectibles Appraisal
Gems & Jewelry Appraisal
Personal Property Valuation
---
Expert Background
Q:

Please list your professional accreditations, degrees, licenses, and certificates granted:

A:

Graduate Certified Appraiser, (GCA), College for Appraisers 1997.

Certified Gemologist,(CG, SCC), Santiago Canyon College, 2001.

Bachelor of Science Degree,(BS) Business Administration, CSU Long Beach, 1983 (course work in fine art).

Q:

Please list your affiliations or memberships in any professional and/or industry organizations:

A:

American Certified Appraisers Association, President and Founder 2016 to current

Santiago Canyon College, Gemology Department - Department Facilitator 2017 to current

Appraisers National Association, President 2004-2006, Vice-President 2002-2003, Parliamentarian, 2006 to 2014. Member 1998-2016

North Orange County Faculty Advisory Committee Member, 2003-2008.

Q:

Please list any teaching or speaking experience you have had, including subject matter:

A:

Santiago Canyon College, Orange, CA: 2004 to present
Gemology Instructor for Pearls and Antique and Period Jewelry. Instructor for Jewelry Appraisal Theory (since 1-2006).

Bellflower Adult School, Bellflower, CA: 2006 to 2009
Instructor for general antiques program.

North Orange County Community College District, Anaheim, CA: 2003 to 2008.
Instructor for Antique and Collectible Jewelry.

College for Appraisers, Huntington Beach, CA: 1998 to 2005
Instructor and Department Chair for Antique and Collectible Jewelry.
Instructor for Antique Metals.

Q:

Have any of your accreditations ever been investigated, suspended or removed? (if yes, explain)

A:

Never.

Q:

On how many occasions have you been retained as an expert?

A:

Since 1998 I have been retained at least 25 times to provide appraisals for litigation purposes and was prepared to offer my testimony.

Q:

For what area(s) of expertise have you been retained as an expert?

A:

Residential contents, antique contents, jewelry, fine art, collectibles, porcelain.

Q:

In what percentage of your cases were you retained by the plaintiff?

A:

75%

Q:

In what percentage of your cases were you retained by the defendant?

A:

25%

Q:

On how many occasions have you had your deposition taken?

A:

Deposed as an expert witness four times.

Q:

When was the last time you had your deposition taken?

A:

September-2019.

Q:

On how many occasions have you been qualified by a court to give expert testimony?

A:

Seven times.

Q:

On how many occasions have you testified as an expert in court or before an arbitrator?

A:

Six times.

Q:

For how many years have you worked with the legal industry as an expert?

A:

Since 1998.

Q:

What services do you offer? (E.g.: consulting, testing, reports, site inspections etc.)

A:

Personal property appraisal services, consulting, appraisal review, deposition review, testimony review, site inspection.

Q:

What is your hourly rate to consult with an attorney?

A:

$200.00 per hour.

Q:

What is your hourly rate to review documents?

A:

$200.00 per hour.

Q:

What is your hourly rate to provide deposition testimony?

A:

$375.00 per hour.

Q:

What is your hourly rate to provide testimony at trial?

A:

$375.00 per hour.

Q:

Please list any fees other than those stated above (E.g.: travel expenses, copy fees, etc.)

A:

On-site inventory: $275.00 per hour
Fine Art: per piece
Document research, trial preparation, etc: $150 per hour
Deposition/Testimony review: $225.00 per hour
Travel (driving): $50.00 per hour
Hotel/Meals/Flights: actual cost



---
References
Bradford Child
Child & Marton LLP
1055 W 7th St, Ph 33
Los Angeles, CA 90017-2528
213-627-3113
btchild@childmarton.com

E. Toby Bowler
615 Brookside Ave
Redlands, CA 92373-4666
(909) 328-6876
tbowler@bowlerandbowler.com

Hannah G. Elisha, Esq.
Associate Attorney
Stevenson Law Office
5001 Airport Plaza Drive Suite #210
Long Beach, CA 90815
(866) 480 - 6657
hannah@stevensonlawoffice.com