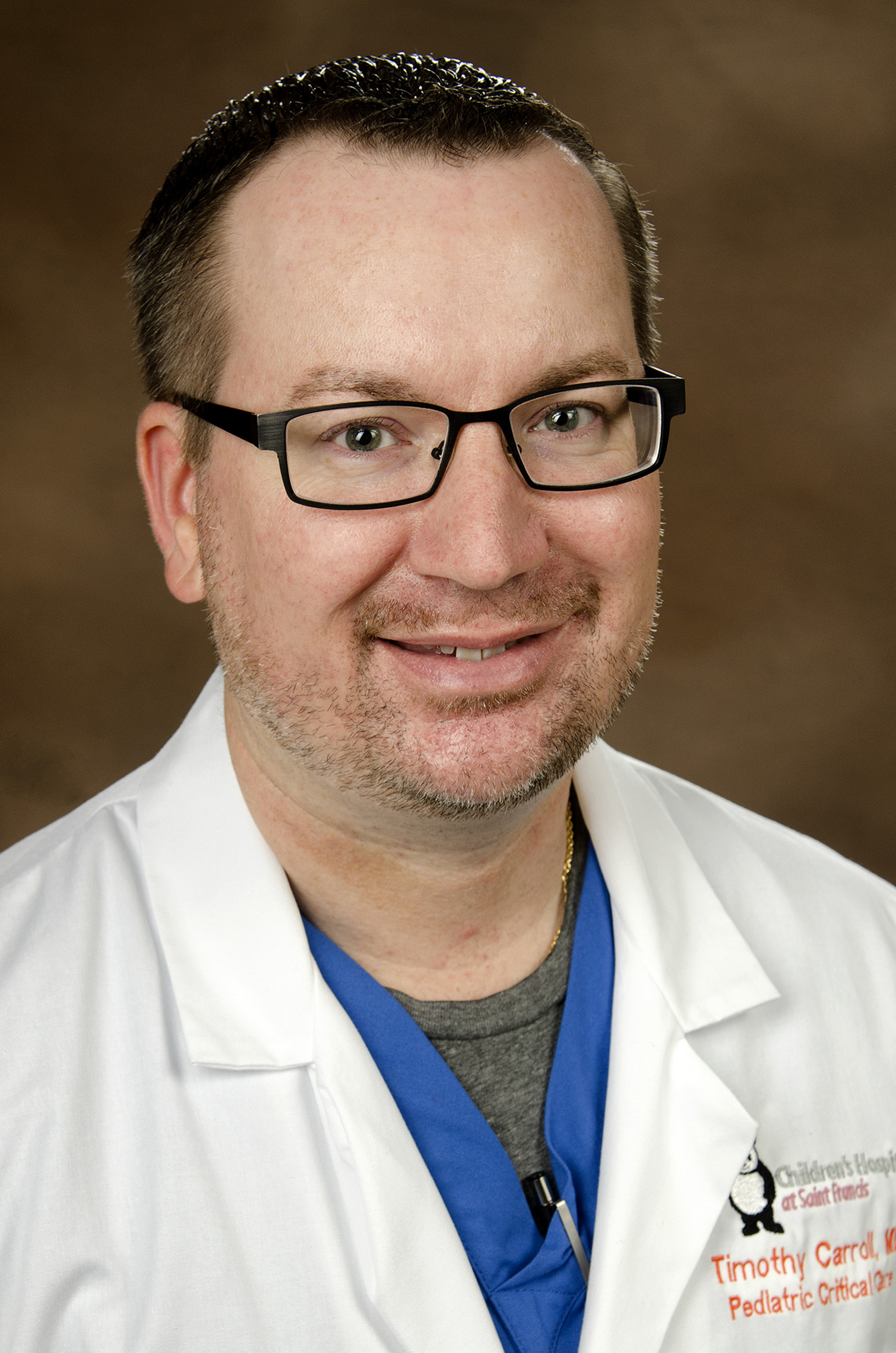 Dr. Timothy G Carroll, MD FAAP
Pediatric Critical Care/Emergency Medicine/Hospitalist Expert
2210 N 61st Ave


Pensacola, FL 32506-3238
Mobile: 405-501-3114
Office: 405-501-3114
Introduction
My name is Dr. Timothy Carroll, I have extensive experience in Pediatric Critical care, Pediatric Emergency Medicine and Pediatric Hospital medicine. I hold dual adjunct faculty appointments. I'm an experienced expert witness for comprehensive case reviews.

I was heavily involved in intra-collegiate debate and took 2nd in the country in the 1996 CEDA national debate championships. I attended medical school at the University of Kansas in Kansas City, KS and trained in Pediatrics and Pediatric Critical Care at the University of Texas Southwestern in Dallas, TX.

I have extensive clinical experience in Pediatric hospital medicine, Pediatric emergency medicine and Pediatric critical care. I practiced pediatric emergency medicine for 4 years at Children's Medical Center Dallas which is the busiest pediatric ER in the country. I have been practicing pediatric critical care and hospital medicine for over 15 years at tertiary and quaternary centers. I am currently the Chair of Pediatrics at Florida West Hospital and for Nemours Children's Health, a world-renowned pediatric care service. I have extensive experience in all types of pediatric patients and therapies and have experience in both private and academic practice settings. This experience includes respiratory failure, ECMO, renal replacement therapy, congenital heart disease, ventilators, cardiac arrest and resuscitation, organ failure, trauma (including non-accidental trauma), intracranial hemorrhage and all kinds of infection.

I hold dual adjunct faculty appointments as Clinical Assistant Professor at the University of Oklahoma and Oklahoma State University. I have published multiple book chapters and papers on several key topics in peer reviewed major journals. I have a certificate in Patient Safety and Quality from the Armstrong Institute for Patient Safety at Johns Hopkins University. I am a frequently requested lecturer and a confident public speaker.

I am in good standing with the Florida, Montana, Oklahoma, and Texas medical boards where I hold medical licenses and have no history of negative judgements or history of disciplinary actions of any kind. I have been performing legal reviews since 2018 and have testified successfully for multiple clients both plaintiff and defense on a multitude of pediatric topics. My goal is to provide comprehensive medical opinions for case reviews and legal proceedings. My clinical schedule is flexible, and I have plenty to time to take on cases for review.
---
Areas of Expertise
Child Abuse
Critical Care Medicine
Emergency Medicine
Hospitalist Medicine
Medical Malpractice
Neonatology
Pediatric Critical Care
Pediatrics
Shaken Baby Syndrome
Trauma Surgery/Trauma Medicine
Urgent Care
---
Expert Background
Q:

Please list your professional accreditations, degrees, licenses, and certificates granted:

A:

EDUCATION AND TRAINING
Training:
2006-2009 University of Texas Southwestern Pediatric Critical Care Fellowship
Children's Medical Center Dallas; Dallas, Texas
James Thomas, MD; Division Director
Steven Kernie, MD; Fellowship Director

2002-2005 University of Texas Southwestern Pediatric Residency
Children's Medical Center Dallas; Dallas, Texas
George Lister, MD; Chairman
Patricia Hicks, MD; Residency Director

Medical:
1998-2002 University of Kansas School of Medicine; Kansas City, Kansas
Medical Doctor

Premedical:
1995-1998 Fort Hays State University; Hays, Kansas
Magna Cum Laude; Bachelor of Science – General Science

LICENSURE AND CERTIFICATION
State Licenses:
2022- Present: Florida State Medical License

2022-Present: Montana State Medical License

2011-Present Oklahoma Medical License #28346,

2003-Present Texas Medical License #L7324

2010-2012 Arizona Medical License #43859 (inactive)

2009-2011 Nevada Medical License #13172 (inactive)

Board Certifications:
2010-Present Pediatric Critical Care; American Board of Pediatrics

2005-2015 General Pediatrics; American Board of Pediatrics (inactive)

2017 Armstrong Institute for Patient Safety and Quality, Johns Hopkins Univ.
Certificate in Patient Safety


Q:

Please list your affiliations or memberships in any professional and/or industry organizations:

A:

2018-Present Tulsa Catholic Medical Association

2015-Present American Federation for Medical Research

2015-Present Southern Society for Pediatric Research

2009-Present Fellow, American Academy of Pediatrics, Critical Care Section

2009-Present American Board of Pediatrics

2009-Present Society of Critical Care Medicine

2009-2012 American Heart Association


Q:

Please list any teaching or speaking experience you have had, including subject matter:

A:

PRESENTATIONS *indicates mentored trainee

Poster Presentations

1. Carroll T, May R. Evaluation of a Palliative Care Education Curriculum for General Pediatric Residents. Presented at The Fourth Annual College of Medicine Education Week by the Academy of Teaching Scholars at the University of Oklahoma. September 2017

2. Ericksen, R*, Guthrie C, Carroll T. The Use Of Procalcitonin For Prediction Of Pulmonary Bacterial Co-infection In Children With Respiratory Failure Associated With Viral Bronchiolitis. Presented at Society of Academic Emergency Medicine. May 2016.

3. Carroll, T, Carroll M. Methemoglobinemia in a Pediatric Oncology Patient receiving Sulfamethoxazole/Trimethoprim Prophylaxis. Presented at Southern Regional Meeting of the Southern Society for Pediatric Research. February 2016.

4. Carroll T. Needs Assessment for Pediatric Palliative Care at a Tertiary Children's Hospital. Presented at Southern Regional Meeting of the Southern Society for Pediatric Research. February 2016.

5. Brosset-Ugas M*, Carroll T, Chavez-Bueno S. Salmonella typhi Bacteremia Associated to Septic Shock
and Acute Respiratory Syndrome in a Teenage Patient. Presented at Southern Regional Meeting of the Southern Society for Pediatric Research. February 2016.

6. DeLeon S, Mehdi N, Dupuis G, Rivas G, Montgomery S, Duncan P, Carroll T. The Development of an Integrated Asthma Clinical Pathway at the University of Oklahoma Children's Hospital. Presented at Southern Regional Meeting of the Southern Society for Pediatric Research. February 2016.

7. Cruickshank A*, Meyer W, Carroll T. Central Line Associated Blood Stream Infections in Pediatric Hematology/Oncology Inpatients and Outpatients. Presented at Stephenson Cancer Research Symposium. Oklahoma City, OK, January 2016.

8. Brosset-Ugas M*, Carroll T, Chavez-Bueno S. Salmonella Typhi Bacteremia Associated with Septic Shock and Acute Respiratory Distress Syndrome in a Teenage Patient. University of Oklahoma Department of Pediatrics Research Day, Oklahoma City, Oklahoma, May 2015.

9. Carroll T, Perron L. Reduction of Central Line Associated Blood Stream Infections After Adoption of Central Line Insertion and Maintenance Procedures. University of Oklahoma Department of Pediatrics Research Day, Oklahoma City, Oklahoma, May 2015.

10. Carroll T, Carroll M. A Case of Methemoglobinemia in a Pediatric Oncology Patient Receiving Bactrim Prophylaxis. University of Oklahoma Department of Pediatrics Research Day, Oklahoma City, Oklahoma, May 2015.

11. Carroll T. Needs Assessment for Pediatric Palliative Care at OU Medical Center. University of Oklahoma Department of Pediatrics Research Day, Oklahoma City, Oklahoma, May 2015.

12. DeLeon S, Mehdi N, Dupuis G, Rivas G, Montgomery S, Duncan P, Carroll T. The Development of an Integrated Asthma Clinical Pathway at OU Children's Hospital. University of Oklahoma Department of Pediatrics Research Day, Oklahoma City, Oklahoma, May 2015.

13. Ericksen R*, Carroll T. The Use of Procalcitonin in Predicting Bacterial Co-Infection in Children with Respiratory Failure from Viral Bronchiolitis. University of Oklahoma Department of Pediatrics Research Day, Oklahoma City, Oklahoma, May 2015.

14. Cruickshank A*, Carroll T, Meyer W. Retrospective Review of the Incidence of Central Line Infections and Thromboses in the Pediatric Hematology/Oncology Population. University of Oklahoma Department of Pediatrics Research Day, Oklahoma City, Oklahoma, May 2015.

15. Carroll T, Tortoriello-Raymond Tia, Dimas Vivian. Vasopressin Rescue for In-Pediatric Intensive Care Unit Cardiopulmonary Arrest Refractory to Initial Epinephrine Dosing: A Prospective Feasibility Pilot Trial. Society of Critical Care Medicine National Conference, Miami, Florida, January 2010.

16. Carroll T, Sanchez P. Clinical and Laboratory Prevention of Neonatal Herpes Simplex Virus: Retrospective Analysis and Literature Review. Pediatric Academic Society National Meeting, May 2005.

17. Carroll T, Quigley R. Case Report: Acute Hepatitis, Nephritis and Pancreatitis in a Pediatric Patient Associated with Oxacillin Therapy. Honorable mention in the Resident Section poster exhibit at the Texas Pediatric Society Annual Meeting, September 2004.

Platform Presentations
Local/State
1. Carroll T. Integrated Palliative Care Practices for Children with Complex Chronic Conditions. Presented at University of Oklahoma Palliative Care Summit, November 2015.

2. Carroll T. Use of Procalcitonin for Detection of Invasive Bacterial Infection in Children. Presented at University of Oklahoma Pediatric Grand Rounds, May 2013.

3. Carroll T. Vasopressin Rescue for In-Hospital Pediatric Cardiopulmonary Arrest Refractory to Initial Epinephrine Dosing: A Pilot Trial. Presented at University of Oklahoma Pediatric Grand Rounds, July 2011.

4. Carroll T, Neese B, Pigg K. Predictors of In Vitro Fertilization Success in Patients Stratified by the Cycle of Artificial Reproductive Technology. Presented at the University of Kansas School of Medicine: Department of Preventative Medicine, April 2002.

5. Carroll T. Progressive Multifocal Leukoencephalopathy. Case presentation for Kansas American College of Physicians Meeting, September 2001.

Regional/National
1. Ericksen R*, Guthrie C, Carroll T. The Use of Procalcitonin for Prediction of Pulmonary Bacterial Co- infection in Children with Respiratory Failure Associated with Viral Bronchiolitis. Presented at the Society of Academic Emergency Medicine, May 2016.

2. Carroll T, Perron L. Reduction of Central Line Associated Blood Stream Infections After Adoption of Central Line Insertion and Maintenance Procedures. Presented at Southern Regional Meeting of the Southern Society for Pediatric Research. February 2016. Awarded SAFMR/SSCI Junior Faculty Research Travel Award.

3. Cruickshank A*, Meyer W, Carroll T. Central Line Associated Blood Stream Infections in Pediatric Hematology/Oncology Inpatients and Outpatients. Presented at Western Regional Meeting of the Society for Pediatric Research. January 2016. Dr. Cruickshank Awarded Scholar of the American Federation for Medical Research.

4. Carroll T. Pediatric Status Epilepticus. Invited Grand Rounds presentation for University of Kansas School of Medicine-Wichita Department of Pediatrics. Wichita, KS. September 2015.

5. Carroll T, Tortoriello-Raymond T, Dimas V. Vasopressin Rescue for In-Hospital Pediatric Cardiopulmonary Arrest Refractory to Initial Epinephrine Dosing: A Pilot Trial. Abstract presented at Society of Critical Care Medicine National Conference, Miami, Florida, February 2010.

6. Tortoriello-Raymond T, Carroll T, Sales G, Cummings Morris M. Effectiveness of the Informed Consent
Process for a Pediatric Resuscitation Program. Presented at AHA Scientific Sessions, Orlando, Florida,
2010.

TEACHING EXPERIENCE

1. Pediatric Critical Care Inpatient Rounds. 2009- Present. Pediatric residents (4 per month; approximately 120 service days per year).

2. Pediatric Critical Care Lectures for Pediatric Residents. 2017-Present. Given to 15 OSU General Pediatric Residents twice per year.

3. Pediatric Critical Care Journal Club. University of Oklahoma. 2011-2016. Given once per year to 15 members of Pediatric Critical Care Section.

4. Palliative Care Noon Conference Series. University of Oklahoma. 2011-2016. Four 1-hour lectures per annually to 23 general pediatric residents.

5. Pediatric Critical Care Morbidity and Mortality Conference. University of Oklahoma. 2011-2016. Given monthly to 15 members of Pediatric Critical Care Section.

6. Pediatric Critical Care Nursing Lectures. University of Oklahoma. 2011-2016. Given twice per year to 5-10 nurses.

7. Mend-A-Heart Congenital Heart Care Lectures. University of Oklahoma. 2011-2016. Given twice per year to 20 nurses and respiratory therapists.

8. Critical Care Simulation Director. University of Oklahoma. 2011-2016. Given four times per year to ten general pediatric residents per course.

9. Monthly Critical Care Resident Lectures. University of Nevada School of Medicine Pediatric Residency. 2009-2011. Gave 1 hour lectures monthly for 20 months to 20 residents;
Mentoring and Advising
1. Ryan Erickson, MD Developed and obtained funding for Dr. Erickson's fellowship project for Pediatric Emergency Medicine fellowship: The Use of Procalcitonin in Predicting Bacterial Co-infection in Children with Respiratory Failure from Viral Bronchiolitis. Funding included $2300 for patient testing and also served on his Scholarship Oversight Committee.


2. Amy Cruickshank, MD Developed Dr. Cruickshank's fellowship project for Pediatric Oncology fellowship: Citrate Ethanol Lock Therapy for Prevention of Central Line Associated Blood Stream Infections in Pediatric Oncology. Total funding amount still under review and also served on her Scholarship Overnight Committee. Dr Cruickshank was named a scholar of the American Federation for Medical Research. I was her primary thesis advisor for her MS in Clinical and Translational Science


3. Melissa Brosset-Ugas, MD Mentored in the clinical care of a patient and then in her published case report: Salmonella Typhi Bactermia associated to Septic Shock and Acute Respiratory Distress Syndrome in a Teenage Patient

4. Kassi Ackerman, MD Developed, mentored and then assisted in publication of Dr. Ackerman's project Provider Attitudes Toward Tracheostomy Usage in Prolonged Endotracheal Intubation in Pediatrics. I also spent a great deal of time advising Dr. Ackerman regarding a career in pediatric critical care including discussion of fellowship options.

5. Sruty Aiyaswamy, DO Developed and mentored Dr. Aiyaswamy's project Needs Assessment for Pediatric Palliative Care in a Community Pediatric Hospital. I also spent a great deal of time advising Dr. Aiyaswamy regarding a career in pediatric critical care including discussion of fellowship options.

Career Advising
1. Steven Nye, MD Spent significant time advising regarding a career in pediatric critical care including discussion of fellowship and employment opportunities.

Formal Case/Topic Presentations-Pediatric Residents
1. Carroll T. Pediatric Palliative Care and Methods of Difficult Conversations. Invited lecture to Oklahoma State University College of Osteopathic Medicine Pediatric Residency. October 2019

2. Carroll T. Pediatric Status Asthmaticus. Invited lecture to Oklahoma State University College of Osteopathic Medicine Pediatric Residency. September 2018

3. Carroll T. Pediatric Shock and Neurologic Emergencies. Invited lecture to Oklahoma State University College of Osteopathic Medicine Pediatric Residency. March 2018

4. Carroll T. Pediatric Respiratory Failure and Shock States. Invited lecture to Oklahoma State University College of Osteopathic Medicine Pediatric Residency. July 2017

5. Carroll T. Integrated Palliative Care Practices for Children with Complex Chronic Conditions. Presented at University of Oklahoma Palliative Care Summit, April 2016

6. Carroll T. Mechanical and Chemical Cardiovascular Support. Invited lecture to University of Oklahoma Pediatric Critical Care Advanced Practice Providers, January 2016

7. Carroll T. Status Epilepticus. Invited lecture to University of Oklahoma Pediatric Residency, April 2015, March 2012

8. Carroll T. Introduction to Pediatric Palliative Care. Invited lecture to University of Oklahoma Pediatric Residency, April 2016, November 2014, November 2013

9. Carroll T. Communication and Family Meetings in Palliative Care. Invited lecture to University of Oklahoma Pediatric Residency, May 2016, January 2015, December 2014

10. Carroll T. Medical Management in the Comfort Care Setting. Invited lecture to University of Oklahoma Pediatric Residency, March 2014

11. Carroll T. Single Ventricle Physiology. Invited lecture to University of Oklahoma Mend a Heart cardiac education program, April 2015, October 2014, April 2014, October 2013

12. Carroll T. DKA, DI, SIADH. Invited lecture to OU Children's Hospital PICU nursing residency, August 2016, July 2016, November 2015, June 2015, April 2015, November 2014, March 2014, September 2013, February 2012

13. Carroll T. Status Asthmaticus. Invited lecture to University of Nevada Pediatric Residency, February 2011

14. Carroll T. Pediatric Sedation and Analgesia. Invited lecture to University of Nevada Pediatric Residency, September 2010

15. Carroll T. Status Epilepticus. Invited lecture to University of Nevada Pediatric Residency Program and Sunrise Children's Hospital Pediatric Transport Team, March 2010

16. Carroll T. Diabetic Ketoacidosis. Invited lecture to Sunrise Children's Hospital Pediatric Transport Team, December 2010

17. Carroll T. Manifestations of Herpes Simplex Virus in Pediatrics. Given to UTSW pediatric residents at Pediatric in Review Conference, April 2004

18. Carroll T. Case Report: Acute Hepatitis, Nephritis and Pancreatitis in a Pediatric Patient Associated with Oxacillin Therapy. Presented to UTSW pediatric residents, March 2004

Continuing Medical Education
1. Carroll T. Integrated Palliative Care Practices for Children with Complex Chronic Conditions. Presented at University of Oklahoma Palliative Care Summit, November 2015

2. Carroll T. Pediatric Fever. Invited presentation for Emergency Medical Services for children outreach program, March 2015

3. Carroll T. Pediatric Assessment. Invited presentation for Emergency Medical Services for children outreach program, February 2015

4. Carroll T. Pediatric Traumatic Brain Injury. Invited presentation for Emergency Medical Services for children outreach program, February 2013

5. Carroll T. Pediatric Altered Mental Status. Invited presentation for Emergency Medical Services for children outreach program, February 2013

6. Carroll T. Pediatric Seizures. Invited presentation for Emergency Medical Services for children outreach program, February 2013

7. Carroll T. Pediatric Asthma. Invited presentation for Emergency Medical Services for children outreach program, December 2012

8. Carroll T. Pediatric Shock. Invited presentation for Emergency Medical Services for children outreach program, December 2012

9. Carroll T. Pediatric CPR. Invited presentation for Emergency Medical Services for children outreach program, December 2012

10. Carroll T. Pediatric Airway Management. Invited presentation for Emergency Medical Services for children outreach program, December 2012

Journal Club Presentations
1. Carroll T. "Comparison of Dopamine versus Epinephrine as First Line Vasoactive Drugs in Pediatric Shock. Presented to University of Oklahoma Section of Pediatric Critical Care. December 2015

2. Carroll T. "Tracheostomy Usage in the PICU". Presented to University of Oklahoma Section of Pediatric Critical Care, January 2015

3. Carroll T. "Hyponatremia in Critical Care". Presented to University of Oklahoma Section of Pediatric Critical Care, January 2014

4. Carroll T. "Procalcitonin for Detection of Invasive Bacterial Infection". Presented to University of Oklahoma Section of Pediatric Critical Care, January 2013


Q:

Have any of your accreditations ever been investigated, suspended or removed? (if yes, explain)

A:

No

Q:

On how many occasions have you been retained as an expert?

A:

16

Q:

For what area(s) of expertise have you been retained as an expert?

A:

Pediatric Critical Care, Pediatric Intensive Care, Pediatric Emergency Medicine, Pediatrics, Pediatric Hospitalist, Pediatric Transport, Pediatric Trauma, Pediatric Sedation, Pediatric Cardiac Care, Pediatric Transport, sepsis, cardiac arrest, Resuscitation, ECMO

Q:

In what percentage of your cases were you retained by the plaintiff?

A:

75

Q:

In what percentage of your cases were you retained by the defendant?

A:

25

Q:

On how many occasions have you had your deposition taken?

A:

8

Q:

When was the last time you had your deposition taken?

A:

November 2022

Q:

On how many occasions have you been qualified by a court to give expert testimony?

A:

1

Q:

On how many occasions have you testified as an expert in court or before an arbitrator?

A:

1

Q:

For how many years have you worked with the legal industry as an expert?

A:

6

Q:

What services do you offer? (E.g.: consulting, testing, reports, site inspections etc.)

A:

Consulting, case review and expert opinion and testimony

Q:

What is your hourly rate to consult with an attorney?

A:

$600

Q:

What is your hourly rate to review documents?

A:

$600

Q:

What is your hourly rate to provide deposition testimony?

A:

$600

Q:

What is your hourly rate to provide testimony at trial?

A:

$600

Q:

Please list any fees other than those stated above (E.g.: travel expenses, copy fees, etc.)

A:

Travel or actual costs in production of a report
---
---
---
---
---