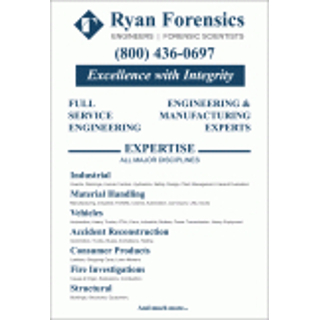 Mr. Russ Rasnic, P.E.
Ryan Forensics, PLLC
278 Kaufman Road, Bldg. 1
Hot Springs , AR 71913
Mobile: 501-617-4127
Office: 800-436-0697
Fax: 479-524-3047
Introduction
Ryan Forensics division of Ryan Engineering, Inc. is a full service firm encompassing mechanical, electrical, and electromechanical engineering disciplines, as well as ergonomics and human factors. We employ all licensed Professional Engineers with advanced degrees, and have special expertise in the areas of machine design, guards, material handling, hydraulics and industrial processes. Our expertise comes from real world design, manufacturing and management experience prior to becoming consulting engineers. Our principal has over 20 years of industrial experience, prior to 15 + years as a consultant, as a mechanical, plant and manufacturing engineer in production processes, machine design, failure analysis, engineering and manufacturing management. Expertise includes concept to production machine design on mobile and stationary mechanical, electromechanical, hydraulic and pneumatic equipment, as well as AC and DC electrical circuits. This experience encompassed drawings, warnings, guarding, manuals and product service, as well as production setup, sales and marketing. Experience in a wide variety of manufacturing/fabricating processes and machinery, as well as OSHA and safety regulations. Also experienced with setup and management of production facilities and businesses. Extensive construction site/equipment experience. International machine guarding consultants.
---
Areas of Expertise
Accident Reconstruction
Automotive Engineering
Chemicals
Combustion Engineering
Conveyors
Design Engineering
Equipment & Machinery
Failure Analysis
Fitness Equipment
Forensic Engineering
Forklifts
Hazardous Materials
Hazardous Waste
Hydraulic Engineering
Labels & Warnings
Ladders & Scaffolds
Latches & Fasteners
Lifts
Machine Guarding
Machinery & Equipment Appraisal
Materials
Materials Engineering
Mechanical Engineering
Metallurgy
OSHA
Pipelines
Plumbing & HVAC
Products Liability
Professional Engineering
Safety
Safety Engineering
Tractors
Traffic/Highway Safety
Warehouse Operations
Welding
Wood Products & Lumber
---
Expert Background
Q:

Please list your professional accreditations, degrees, licenses, and certificates granted:

A:

Advanced degrees in multiple engineering disciplines and business. Licensed as professional engineers by examination in multiple states. National and international expertise in design, manufacturing and guarding. Certified forklift operators and trainers, aerial lift operators and NCCCO crane operators. Experience with forklifts, materials handling equipment, heavy equipment, trucks, ATVs, woodworking, metalworking and agricultural equipment, as well as management of production and warehousing facilities.


Q:

Please list your affiliations or memberships in any professional and/or industry organizations:

A:

Society of Automotive Engineers, American Society of Mechanical Engineers, American Society of Metals, Human Factors and Ergonomics Society, Arkansas Academy of Mechanical Engineering, National Safety Council, Institute of Electrical and Electronic Engineers, NCEES, Certified Fire and Explosion Investigators.

Q:

Please list any teaching or speaking experience you have had, including subject matter:

A:

Graduate Teaching Assistant,Safety Engineering and Hazard Evaluation, Machine Guarding, Lockout Tagout, and the Interlocked Guard, Guest Lecturer on Safety in Design for Senior Level Mechanical Engineering Design Classes, ASME Safety Engineering and Risk Analysis Division Paper Reviewer/Session Chair,DFMEA Facilitator, Traffic Accident Reconstruction I & II, Accident Investigation I & II, Toyota Certified Lift Truck Operator Trainers - Class 1 - 7, NCCCO crane certification.

Q:

Have any of your accreditations ever been investigated, suspended or removed? (if yes, explain)

A:

No

Q:

On how many occasions have you been retained as an expert?

A:

Numerous. 25 + years of combined experience as experts.

Q:

For what area(s) of expertise have you been retained as an expert?

A:

All types of mechanical, agricultural and electromechanical engineering cases. Machine design and manufacturing plant management for 10 -20 years prior to becoming consultants. Specialization in all types of manufacturing machinery and materials handling equipment, including forklifts, aerial devices, cranes, conveyors, etc. Extensive experience with ATVs, automobiles and heavy trucks,heavy equipment, hydraulics, pneumatics and mechanical devices. Electrical circuit design experience as well. Our engineers have also been retained in cases that rely on their manufacturing and business management background. Outside of litigation we perform machine guarding surveys for manufacturers and equipment both domestic and international.

Q:

In what percentage of your cases were you retained by the plaintiff?

A:

80-90%

Q:

In what percentage of your cases were you retained by the defendant?

A:

10-20%

Q:

On how many occasions have you had your deposition taken?

A:

100+

Q:

When was the last time you had your deposition taken?

A:

January, 2018

Q:

On how many occasions have you been qualified by a court to give expert testimony?

A:

Numerous

Q:

On how many occasions have you testified as an expert in court or before an arbitrator?

A:

Numerous

Q:

For how many years have you worked with the legal industry as an expert?

A:

17+. All engineers 25+ combined.

Q:

What services do you offer? (E.g.: consulting, testing, reports, site inspections etc.)

A:

Industrial consulting, testing, accident reconstruction, site inspections, expert testimony, machine design, machine guarding.

Q:

What is your hourly rate to consult with an attorney?

A:

No Charge

Q:

What is your hourly rate to review documents?

A:

$250.00

Q:

What is your hourly rate to provide deposition testimony?

A:

$325.00

Q:

What is your hourly rate to provide testimony at trial?

A:

$325.00

Q:

Please list any fees other than those stated above (E.g.: travel expenses, copy fees, etc.)

A:

Travel - $195
---
---
---