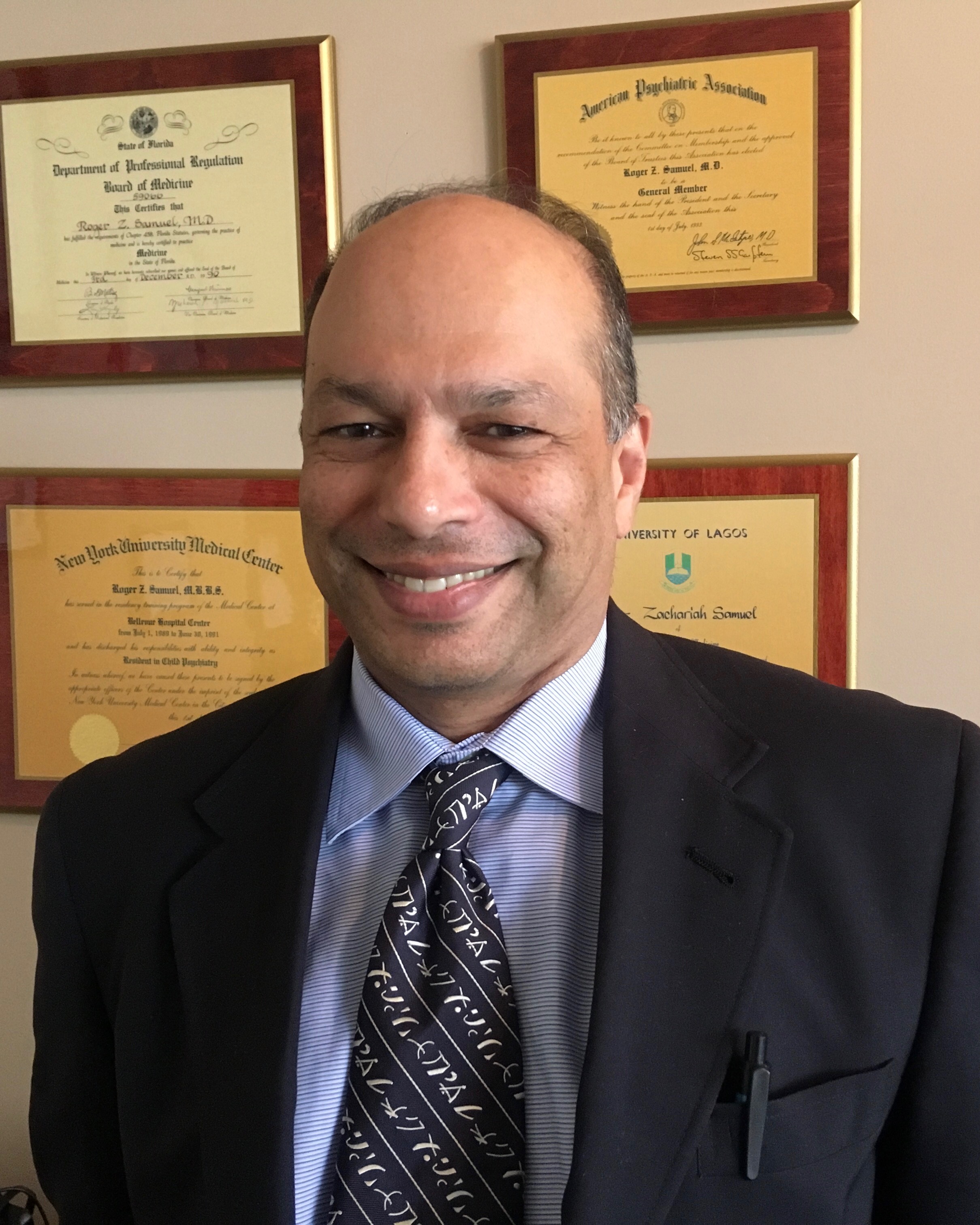 Dr. Roger Z Samuel
Boca Raton Psychiatric Group
7100 West Camino Real Suite 401


Boca Raton, FL 33433
Office: 561-368-8998
Fax: 561-392-9170
Introduction
Dr. Roger Z Samuel is a forensic psychiatrist with 4 psychiatry board certifications in general, forensic, child/adolescent and geriatric psychiatry.

He provides expert services in disability evaluations, competency, criminal responsibility, sentencing, child custody, tort cases (medical malpractice, personal injury, wrongful death etc.), FAA/aviator evaluations, and return-to-duty (among many areas).

He is available for consultation to defense and prosecuting or plaintiff attorneys.

His many areas of expertise include:
PTSD, depression, bipolar disorder, anxiety disorders, ADHD, Autism, other childhood & developmental disorders, neuropsychiatry, dementia, substance abuse, psychopharmacology.
---
Areas of Expertise
Adoptions
Alcohol Abuse
Brain Injury
Child Psychiatry
Competency
Disability
Drug Abuse
Fitness for Duty Evaluation
Forensic Psychiatry
Managed Care & HMOs
---
Expert Background
Q:

Please list your professional accreditations, degrees, licenses, and certificates granted:

A:

MD
Fellowship, Child & Adolescent Psychiatry, NYU/Bellevue Hosp
4 board certifications: General, forensic, child/adolescent, geriatric psychiatry
Medical licenses: FL, TX (active), NY, IL, PA (inactive)


Q:

Please list your affiliations or memberships in any professional and/or industry organizations:

A:

American Psychiatric Association
Florida Psychiatric Society
American Academy of Psychiatry and the Law

Q:

Please list any teaching or speaking experience you have had, including subject matter:

A:

Asst Professor, Clinical Instructor
Director, Medical Student Rotation
Workshops-on Malingering in Disability Evaluations
Speeches: Psychopharmacology, Depression, Anxiety,Adoption, ADHD, Tardive Dyskinesia, Childhood Disorders


Q:

Have any of your accreditations ever been investigated, suspended or removed? (if yes, explain)

A:

No

Q:

On how many occasions have you been retained as an expert?

A:

Over 50 times as of 2022

Q:

For what area(s) of expertise have you been retained as an expert?

A:

Malpractice, wrongful death, testamentary capacity, workplace harassment, assault and battery, child custody, criminal responsibility, sentencing, addiction, personal injury, disability.

Q:

In what percentage of your cases were you retained by the plaintiff?

A:

30-40

Q:

In what percentage of your cases were you retained by the defendant?

A:

30-40

Q:

On how many occasions have you had your deposition taken?

A:

Over 50 times as of 2022

Q:

When was the last time you had your deposition taken?

A:

2021

Q:

On how many occasions have you been qualified by a court to give expert testimony?

A:

All testimony occasions

Q:

On how many occasions have you testified as an expert in court or before an arbitrator?

A:

Over 15 times

Q:

For how many years have you worked with the legal industry as an expert?

A:

Over 25 years as of 2022

Q:

What services do you offer? (E.g.: consulting, testing, reports, site inspections etc.)

A:

Evaluations, consultations

Q:

What is your hourly rate to consult with an attorney?

A:

$500

Q:

What is your hourly rate to review documents?

A:

$500

Q:

What is your hourly rate to provide deposition testimony?

A:

$750


Q:

What is your hourly rate to provide testimony at trial?

A:

$750

Q:

Please list any fees other than those stated above (E.g.: travel expenses, copy fees, etc.)

A:

Copy fees: $1/page
Travel expenses: cost of travel (if out of town) and time used (portal to portal if in local area)
---
---
---