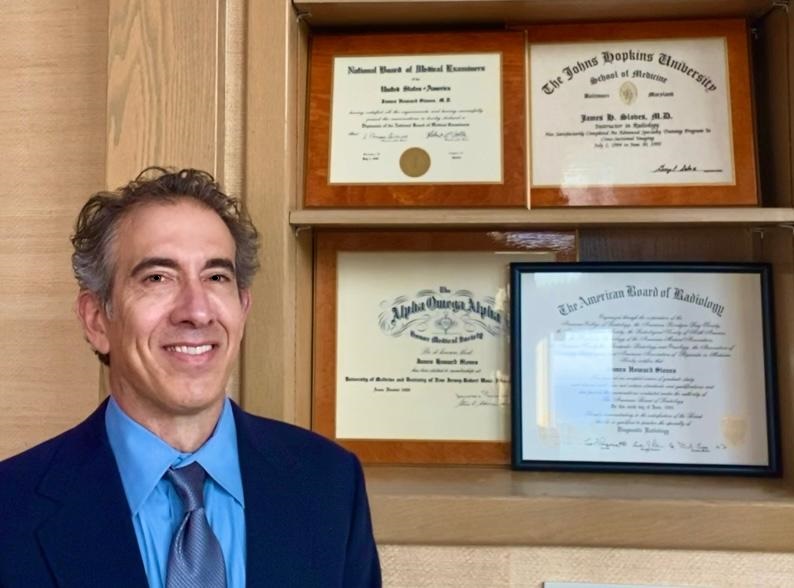 Dr. James Sloves MD
James Sloves MD Diagnostic Radiology, LTD
677 CRISTINA DR


Incline Village, NV 89451
Mobile: 775-303-7054
Office: 775-303-7054
Introduction

James Sloves, MD, has more than 3 decades of experience in diagnostic radiology with more than 28 years practicing as board certified, expert radiologist preceded by 5 years of radiology residency and fellowship sub-specialization. During my years in private practice I have experience providing forensic radiology consultations and medicolegal reviews .

After graduating with honors Alpha Omega Alpha (AOA) from Rutgers Medical School, I did my residency in diagnostic radiology at Cornell-NSUH hospital and became certified by the American Board of Radiology (ABR). Afterwards I completed a fellowship and held a clinical instructor teaching position at the prestigious, word-famous Johns Hopkins Hospital.

Subsequently I joined private practice radiology and held positions as Chief Division of Ultrasound, Director of two different imaging centers, and more recently Chief Division of Body Imaging of one of the largest radiology practices in the country and in the world, Virtual Radiologic (Vrad).
I complete more than then necessary requirements of continuing medical education (CMEs) every year and regular attend radiology conferences.
For the past 12 years I have performed Quality Assurance for Virtual Radiologic reviewing more than 1,700 cases. I am licensed in approximately 13 states and credentialed at more than one hundred fifty facilities across the country including hospitals and imaging centers. I have been as an independent contractor with one of the largest teleradiology companies in the word, based in the United States since 2011.

I have a flexible schedule to accommodate your needs.
---
---
Expert Background
Q:

Please list your professional accreditations, degrees, licenses, and certificates granted:

A:

MD, ABR American Board of Radiology, Alpha Omega Alpha AOA Medical Honor Society, AB Biology

Q:

Please list your affiliations or memberships in any professional and/or industry organizations:

A:

American Board of Radiology, National Board of Medical Examiners Certified, Alpha Omega Alpha Medical Honor Society, American Roentgen Ray Society, Radiologic Society of North America,

Q:

Please list any teaching or speaking experience you have had, including subject matter:

A:

Q:

Have any of your accreditations ever been investigated, suspended or removed? (if yes, explain)

A:

No

Q:

For what area(s) of expertise have you been retained as an expert?

A:

diagnostic radiology: MRI, CT, ultrasound, X-ray

Q:

What services do you offer? (E.g.: consulting, testing, reports, site inspections etc.)

A:

Consultation, report review, image review, case review

Q:

What is your hourly rate to consult with an attorney?

A:

$675.

Q:

What is your hourly rate to review documents?

A:

$675.

Q:

What is your hourly rate to provide deposition testimony?

A:

For Expert Witness Fees re: Trial/Deposition/Arbitration

The following rates will be charged pertaining to appearance re: trial, depositions or arbitration
testimony as an Expert Witness as follows:

Hourly rate of $775.00 for testimony (4 hour minimum for trial/arbitration/disciplinary action-medical
board). Anything over four hours would be a full day fee. Depositions (2 hour minimum) at a rate of
$775.00 per hour.
Travel time to and from deposition/trial/arbitration testimony charges listed below on this site.

Q:

What is your hourly rate to provide testimony at trial?

A:

$775

Q:

Please list any fees other than those stated above (E.g.: travel expenses, copy fees, etc.)

A:

Travel time to and from deposition/trial/arbitration testimony will be charged at the standard rate of
$475.00 per hour. In lieu of the above hourly rate, duties that reasonably require overnight travel will be billed at the flat rate of $6,000.00/day on site
---
---
---
---