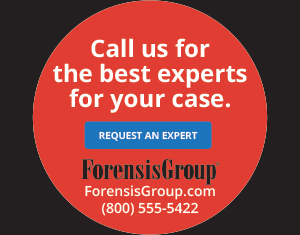 ForensisGroup, Inc.
The Expert of Experts
301 N. Lake Ave. Suite 420


Pasadena, CA 91101-5119
Office: 800-555-5422
Fax: 626-795-1950
Introduction
For over 30 years, ForensisGroup has provided the nation's top law firms, businesses, insurance companies, government entities with highly qualified expert witnesses and consultants. Experts referred by ForensisGroup have been thoroughly vetted based on CVs, track record, client feedback and much more. Over 20,000 clients have retained our experts in more than 30,000 cases nationwide.

ForensisGroup takes a multi-disciplined approach, referring our clients to experts of various disciplines pertaining to the issues of the case in our one-step process. We handle every detail from conflict checks to scheduling interviews all with no cost and no obligation until retention. If you have the case, we have the expert witness. Request an expert at ForensisGroup.com.
---
Areas of Expertise
1983 Litigation
3D Laser Scanning
Accident Investigation
Accident Reconstruction
Acoustics
Addiction Medicine
Adhesives
Admiralty & Maritime
Adoptions
Advertising
Aerial Photography
Aerosols
Aerospace Engineering
Agricultural
Agricultural Engineering
Airports/Airlines
Alarms
Alcohol
Alcohol Abuse
Alcohol, Drug & DUI Testing
All Terrain Vehicles (ATV)
Allergy & Immunology
Alternative Medicine
Americans with Disabilities Act (ADA)
Amusement Parks
Analytical Testing Labs
Anesthesiology
Animals
Antiques, Art, & Collectibles Appraisal
Apartment/Condominium Security
Apparel & Textile Industry
Aquatics
Architect Liability
Architecture
Asbestos
Asset Searches
Audio
Audiology
Auditing
Automobile Appraisal
Automobile Dealerships
Automobile Finance
Automobile Mechanical & Body Repair
Automotive
Automotive Engineering
Autopsies
Aviation
Aviation Valuation
Bad Faith
Bank Security
Banking
Bankruptcy
Bariatric Medicine
Bars/Lounges/Night Clubs
Behavioral Science
Bicycle
Biochemistry
Biology
Biomechanics
Biomedical
Black Box/Data Recorder
Boilers
Brain Injury
Breast Surgery
Brick & Stone
Broadband
Building Codes
Building Contractor Liability
Burn Injury
Bus & Truck Safety/Accident
Business
Business Law
Business Valuation
Business/Employment Insurance
Call Centers
Cardiology
Cardiothoracic Surgery
Cardiovascular Surgery
Carpet
Casino & Gaming Industry
Cell Phones
Chemical Engineering
Chemicals
Chemistry
Child Abuse
Child Custody
Child Psychiatry
Child Psychology
Child Safety
Child Sexual Abuse
Chiropractic
Civil Engineering
Class Actions
Coal
Colorectal Surgery
Combustion Engineering
Commercial Real Estate
Communications
Community Mental Health
Compensation
Competency
Computer Security
Computers
Concrete/Cement
Construction
Construction Damages
Construction Lending
Construction Safety
Construction Site
Consumer Credit
Consumer Products
Contract Manufacturing
Contracts
Conveyors
Copyrights
Coronavirus
Corporate Governance
Correctional Healthcare
Corrosion
Cranes
Credit Damage
Crime Foreseeability
Crime Scene Analysis
Criminal Law
Criminalistics
Criminology
Critical Care Medicine
Crops
Crowd Control
Cruise Lines
Cruise Ship Medicine
Cryptocurrency
Cybersecurity
Data Communications
Deadly/Excessive Force
Defamation
Demolition
Demonstrative Evidence/Exhibits
Dental Identification
Dental/Dentistry
Dermatology
Design Engineering
Disability
Disabled Access
Disaster Management
Discrimination
Distribution
Dive Medicine
DNA
Document Examination
Dogs
Doors
Driver Behavior
Drones
Drug Abuse
Drug Enforcement
Eating Disorder
Economics
Education & Schools
Elder Abuse
Electrical
Electrical Engineering
Electromagnetic Engineering
Electronic Discovery
Electronics
Elevator & Escalator
Emergency Communications & 911
Emergency Medical Services
Emergency Medicine
Eminent Domain
Emotional Trauma
Employment
Endocrinology
Entertainment & Media
Environmental
Environmental Economics
Environmental Engineering
Environmental Medicine
Environmental Toxicology
Epidemiology
Equipment & Machinery
Ergonomics
Evidence Analysis & Preservation
Explosions
Facility Engineering
Failure Analysis
Family Law
Family Practice/Family Medicine
Fatigue
FDA
Finance
Fingerprints
Fire
Fire & Life Safety
Fire Insurance
Fire Sprinkler Systems
Firearms & Ballistics
Fitness Equipment
Fitness for Duty Evaluation
Flooring
Food
Food Processing Engineering
Footprints
Forensic Accounting
Forensic Animation
Forensic Engineering
Forensic Psychiatry
Forensic Psychology
Forestry
Forklifts
Franchise Valuation
Franchising
Fraud Investigation
Fuels
Furnaces
Gangs
Gas Turbine Engineering
Gastroenterology
Gems & Jewelry Appraisal
General Surgery
Genetics
Geochemistry
Geology
Geotechnical Engineering
Geriatric Psychiatry
Geriatrics
Glass
Golf
Golf Course Appraisal
Greek Fraternity and Sorority
Group Home
Gynecologic Oncology
Hand Surgery
Handwriting
Hazardous Materials
Hazardous Waste
Head & Neck Surgery
Health Care Economics
Health/Medical/Disability Insurance
Helicopter/Heliport
Helmets
Hematology
Hepatology (Liver)
Home Inspections
Homeowner's Insurance
Horse
Hospital & Medical Ethics
Hospital Administration
Hospital Design
Hospital Security
Hospitalist Medicine
Hotel & Hospitality
Hotel Appraisal
Hotel Security
Human Factors
Human Resources
Hydraulic Engineering
Hydrology & Groundwater
Image Processing
Immigration
Import/Export
Independent Medical Examinations
Industrial Engineering
Industrial Hygiene & Mold
Industrial Medicine
Infectious Disease
Information Technology
Infotainment & Telematics Systems
Ink Dating
Insects & Pests
Insurance
Insurance Adjuster
Insurance Agency
Insurance Agent/Broker
Insurance Customs & Practices
Insurance Excess & Surplus Lines
Insurance Fraud
Intangible Assets Appraisal
Intellectual Property
Interior Design
Internal Medicine
International Business
International Law
International Marketing
Internet
Interpreters
Investment Banking
Jail Suicide
Jails & Prisons
Judgment Recovery
Labels & Warnings
Labor Economics
Labor Law
Laboratory Medicine
Ladders & Scaffolds
Landlord/Tenant
Landscape Design
Language & Linguistics
Laparoscopic Surgery
Laser Surgery
Latches & Fasteners
Latex
Lath & Plaster
Law Enforcement
Lead Poisoning
Legal Ethics
Legal Fees
Legal Malpractice
Legal Nurse Consultant
Liability Insurance
Licensing
Life Care Planning
Life Insurance
Lifts
Lighting & Illumination
Lithium Ion Battery Fires
Litigation Finance
Livestock
Logistics/Freight Forwarding
Long Term Care
Lost Profits
Lubricants
Machine Guarding
Machinery & Equipment Appraisal
Malingering
Mammography
Managed Care & HMOs
Manufactured Homes
Mapping & Surveying
Marine Engineering
Marine Insurance
Marketing
Mass Torts
Materials
Materials Engineering
Mathematical Sciences
Maxillofacial Surgery
Mechanical Engineering
Medical Billing
Medical Devices
Medical Fraud
Medical Illustration
Medical Insurance
Medical Malpractice
Medical Staffing
Medical Toxicology
Medical Valuation
Mergers & Acquisitions
Metallurgy
Microelectronics
Microwave
Midwife
Mineral Interests
Mining
Mortgages
Motorcycles
Multimedia
Negligent Hiring
Neonatology
Nephrology (Kidney)
Networking
Neurodevelopmental Disorder/Disability
Neurology
Neuropharmacology
Neurophysiology
Neuropsychiatry
Neuropsychology
Neuropsychopharmacology
Neuroradiology
Neurosurgery
Nuclear Medicine
Nursing
Nursing Homes
Nutrition
Obstetrics & Gynecology (OB/GYN)
Occupational Medicine
Oil & Gas
Oil & Gas Appraisal
Oncology
Ophthalmology
Optometry
Orthopedic Surgery
Orthotics & Prosthetics
OSHA
Osteopathy
Otolaryngology
Packaging
Pain Management
Paint & Coatings
Palliative Care
Parking Lots/Garages
Parliamentary Procedure
Patents
Pathology
Pediatric Critical Care
Pediatric Surgery
Pediatric Urology
Pediatrics
Pensions
Per- and Polyfluoroalkyl Substances (PFAS)
Perinatology/Maternal Fetal Medicine
Personal Injury
Personal Property Valuation
Pesticides
Petrochemicals
Petroleum Engineering
Pharmacology
Photogrammetry
Photography
Physical Medicine & Rehabilitation
Physical Therapy
Physician Assistants
Physics
Physiology
Pipelines
Plastic Surgery
Plastics
Playground Safety
Plumbing & HVAC
Podiatry
Police Procedures
Police Traffic Radar
Pollution
Polymers
Pools & Spas
Post Traumatic Stress Disorder
Power Tools
Premises Liability
Preventive Medicine
Printing & Publishing
Private Investigators
Probate
Process Service
Proctology
Products Liability
Professional Engineering
Property & Casualty Insurance
Property Management
Psychiatry
Psychology
Psychopharmacology
Public Contracts
Public Opinion & Survey Research
Pulmonary Medicine
Radiation Oncology
Radiology
Railroad
Ramp & Stairs
Real Estate Broker
Real Estate Damages
Real Estate Finance
Real Estate Leasing
Real Estate Malpractice
Real Estate Valuation
Recruiting
Refineries
Reinsurance
Repossession
Rescue
Residential Real Estate
Restaurant Security
Restaurant Valuation
Restaurants
Retail Security
Retail Store Design & Operations
Rheumatology
Risk Management
Robotics
Roofing
Rubber
Safety
Safety Engineering
Safety Equipment
Sales
Sanitary Engineering/Waste Management
Sanity/Competency to Stand Trial
Scheduling Delay & Analysis
School Safety
School Security
Sealants
Seat Belts & Air Bags
Securities
Security Management
Seismology
Self Storage Facilities
Semiconductors
Sexual Abuse
Sexual Harassment/Discrimination
Shaken Baby Syndrome
Silicone
Skiing & Snowboarding
Skip Tracing
Sleep Medicine
Slip, Trip & Fall
Snowmobiles
Software
Software Engineering
Soil
Sound Engineering
Special Event Security
Spectroscopy
Spine Surgery
Sports & Recreation
Sports Medicine
Spousal Abuse
Stalking
Statistics
Stocks & Bonds
Storage
Stormwater Retention Pond
Structural Engineering
Structured Settlements
Suicide
Supply Chain
Surveillance
Tax
Technology
Telecommunications
Telephony
Termites
Testamentary Capacity
Thermal Engineering
Tile
Tire Impressions
Tires
Tobacco
Tourism & Travel Industry
Tractors
Trade Secrets
Trademarks
Traffic/Highway Safety
Transplant Surgery
Transportation Construction
Transportation Engineering
Transportation Safety
Trauma Surgery/Trauma Medicine
Tree/Arborist
Trees Appraisal
Tribology
Trucking
Trusts & Estates
TurboMachinery
Undue Influence
Urgent Care
Urology
Utilities
Utilities Appraisal
UTV (Utility Vehicles, Side by Sides)
Vaccine
Vascular Surgery
Veterinary
Vibration Analysis
Video
Vineyards
Vinyl
Violent Crimes
Visibility
Vocational Evaluation & Rehabilitation
Walking & Working Surfaces
Warehouse Operations
Water Utility
Water/Sewage Treatment Engineering
Waterproofing
Weapons
Weather & Meteorology
Welding
White Collar Crime
Windows
Wireless Technology
Wood Products & Lumber
Workers Compensation Insurance
Workplace Violence
Wound Care/Pressure Sores
Wrongful Death
Wrongful Termination
---
Expert Background
Q:

Please list your professional accreditations, degrees, licenses, and certificates granted:

A:

Experts working with our company have a variety of accrediations and licensure.

Q:

Please list your affiliations or memberships in any professional and/or industry organizations:

A:

Forensic Expert Witness Association (FEWA) ; Better Business Bureau (BBB) ; and Pasadena Chamber of Commerce.

Q:

Please list any teaching or speaking experience you have had, including subject matter:

A:

Many of the experts we refer clients have extensive teaching and speaking experience.

Q:

Have any of your accreditations ever been investigated, suspended or removed? (if yes, explain)

A:

No.

Q:

On how many occasions have you been retained as an expert?

A:

Experts we refer clients are reguarly retained as consulting experts by legal and insurance professionals.

Q:

For what area(s) of expertise have you been retained as an expert?

A:

We refer individuals with technical and professional backgrounds in medicine, science, engineering, and construction.

Q:

In what percentage of your cases were you retained by the plaintiff?

A:

Varies.

Q:

In what percentage of your cases were you retained by the defendant?

A:

Varies.

Q:

On how many occasions have you had your deposition taken?

A:

Our experts have given information in court proceedings thousands of times.

Q:

When was the last time you had your deposition taken?

A:

Our experts are regularly utilized by courts.

Q:

On how many occasions have you been qualified by a court to give expert testimony?

A:

Our experts have been qualified by courts thousands of times.

Q:

On how many occasions have you testified as an expert in court or before an arbitrator?

A:

Our experts have testified and been retained thousands of times.

Q:

For how many years have you worked with the legal industry as an expert?

A:

Over 17 years.

Q:

What services do you offer? (E.g.: consulting, testing, reports, site inspections etc.)

A:

Referral of consultants for work as forensic experts and expert witnesses. Routine services provided include structural and failure analysis, IME's, cause and origin investigations, record review, site visits, etc.

Q:

What is your hourly rate to consult with an attorney?

A:

Varies depending upon requested expert.

Q:

What is your hourly rate to review documents?

A:

Varies depending upon requested expert.

Q:

What is your hourly rate to provide deposition testimony?

A:

Varies depending upon requested expert.

Q:

What is your hourly rate to provide testimony at trial?

A:

Varies depending upon requested expert.

Q:

Please list any fees other than those stated above (E.g.: travel expenses, copy fees, etc.)

A:

Varies depending upon requested expert.
---
References

WHAT OUR CLIENTS SAY ABOUT OUR EXPERTS and SERVICES AT ForensisGroup . . .



"Allow me to strongly recommend the ForensisGroup as an entity providing professional and competent services. I would not hesitate to utilize its services again, and recommend the ForensisGroup to those seeking the assistance of an expert witness."
-Roger Miles, Esq., DEPUTY ATTORNEY GENERAL, DEPARTMENT OF TRANSPORTATION



"I was extremely pleased with the results. The ForensisGroup staff was both courteous and efficient. Your expert was second to none and helped resolve my matter on the best of terms."
-Carlo F. Van den Bosch, Esq., SHEPPARD, MULLIN, RICHTER & HAMPTON, LLP



"Thank you for your terrific service ≠ from the bottom on up. The expert we retained was a pleasure to work with and he prepared a superb analysis and report within very tight time limits. I look forward to working with ForensisGroup again."
-Daniel S. Harris, Esq., KEEGIN, HARRISON,
SCHOPPERT & SMITH, LLP.



"The experts provided by ForensisGroup proved to be knowledgeable, articulate, responsive to our needs and invaluable to the defense of our client. We unhesitatingly and totally recommend ForensisGroup for those seeking experts who will have an impact on their litigated cases."
-Robert H. Grove, Esq., ATTORNEY AT LAW



"I was very happy with the expert you provided. He was knowledgeable and personable. This was the first time I worked with ForensisGroup and I was very satisfied with the service you provided."
-James W. Austin, Esq., AUSTIN & CANNON



"Thank you very much for your hard work. I know you go the extra mile for us and I greatly appreciate it. You folks do a great job and I will continue to turn to you whenever I need an expert."
-Richard Lovich, Esq., ATTORNEY AT LAW



"I am very satisfied with ForensisGroup's stable of forensic experts. I will call on you again."
-C. Larry Davis, Esq., SEMPRA ENERGY



"I would certainly recommend ForensisGroup to others, both for the quality of its technical experts, as well as the ease of their retention and other administrative details. I look forward to working with ForensisGroup again."
-Lauren Brainard, Esq., Senior Deputy General Counsel METROPOLITAN WATER DISTRICT OF SOUTHERN CALIFORNIA



"ForensisGroup was very responsive. The expert provided was excellent, very competent, and learned in his field."
-James Gates, Esq., LAW OFFICES OF NOLAN HENDERSON



"I have been satisfied with ForensisGroup's ability to provide experts in a variety of fields and their coordination of the experts activities, including the billings for several years now."
-Mike Doran, Esq., ATTORNEY AT LAW

---
---