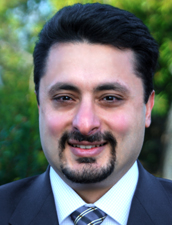 Dr. Fardad Baroumand
Mobile: 408-479-7784
Office: 408-785-0759
Fax: 408-884-3737
Introduction
Fardad Baroumand, MD, is a distinguished medical-legal evaluator and the designated evaluator for the fields of Pain Medicine and PM&R by ExamWorks Inc. (the largest national provider of Independent Medical Evaluations). He is a prominent California State Qualified Medical Evaluator and a member of the California Division of Workers Compensation (DWC) Subject Matter Expert panel. He is also a member of the DWC's Report Quality panel, which oversees and promotes the quality of medical-legal reporting in the State of California.

Dr. Baroumand is a double board-certified subspecialist, practicing in the fields of Pain Medicine and PM&R. He has established the reputation of "the go-to guy" for the most complex and challenging cases, both in the medical and the medical-legal sense.

Since graduation in the top 10 percentile of his medical school in 1997, Dr. Baroumand has received several awards for clinical excellence and has repeatedly been included in the list of "America's Top Physicians." He completed his subspecialty training at the University of Washington (Seattle), one of the most prominent pain medicine organizations in the US. He served as the Chief Fellow overseeing five other specialists. He has achieved a top score in California medical-legal evaluators' qualifying exam and highest quality standards in Utilization Review.

A skillful presenter and award-winning teacher, Dr. Baroumand has repeatedly presented to large audiences of attorneys, claims examiners, patients, and the public.
---
Areas of Expertise
Independent Medical Examinations
Industrial Medicine
Pain Management
Personal Injury
Physical Medicine & Rehabilitation
---
Expert Background
Q:

Please list your professional accreditations, degrees, licenses, and certificates granted:

A:

California Qualified Medical Evaluator
Member of California Division of Workers Compensation Medical-legal Report Quality Panel
Member of California Division of Workers Compensation Medical Unit Expert Panel
American Board of Medical Specialties Pain Medicine Board Certification.
American Board of Physical Medicine & Rehabilitation Board Certification
California State Medical License, 2008 - present

Education: Pain Medicine Subspecialist (Chief Fellow), University of Washington;
Physical Medicine & Rehabilitation Specialist, Medical College of Wisconsin;
Medicine Internship, Columbia University


Q:

Have any of your accreditations ever been investigated, suspended or removed? (if yes, explain)

A:

No
---