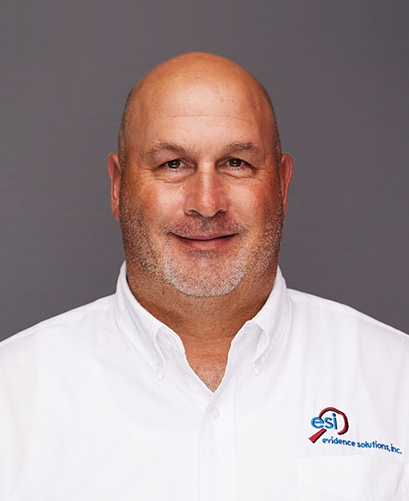 Doug Gipson
Evidence Solutions, Inc.
Available Nationwide


Tucson, AZ 85733
Introduction
Doug Gipson is an Accident Reconstructionist with over 14 years spent investigating, analyzing, and reconstructing vehicle collisions. As a former Law Enforcement Officer, he responded to thousands of crashes over the course of his career. This experience provides him with firsthand knowledge of what the aftermath of vehicle collisions looks like, and the evidence left behind following a collision.

After obtaining certification as an Accident Reconstructionist, he conducted numerous in-depth investigations on his own in addition to working with surrounding agencies to investigate crashes in their jurisdictions and those involving department-owned vehicles. He continued his education as an Accident Reconstructionist, completing courses in Pedestrian and Bicycle Collision Investigation, Motorcycle Collision Investigation, and Commercial/Heavy Vehicle Collision Reconstruction. He also attended training related to CDR downloads, forensic mapping, and railway crossing collisions.

Doug used the knowledge and experience gained over his career to assist in successful prosecutions of offenders in multiple levels of the court system. His expertise has allowed him to provide expert testimony and render expert opinions in both civil and criminal cases.
---
Areas of Expertise
Accident Investigation
Accident Reconstruction
Alcohol Abuse
Bicycle
Black Box/Data Recorder
Drug Abuse
Motorcycles
Personal Injury
Railroad
---
Expert Background
Q:

Please list your professional accreditations, degrees, licenses, and certificates granted:

A:

Commercial Vehicle Reconstruction
Railway Grade Collision Investigations
Pedestrian/Bicycle Collisions
Investigation of Motorcycle Crashes
Forensic Mapping
Standardized Field Sobriety Instructor
Accident Reconstruction Level III
Technical Collision Investigation
On Scene Traffic Homicide Investigation
Basic Law Enforcement Course

• The University of Memphis: 2001-2005

• Crichton College: 2000-2001


Q:

Please list any teaching or speaking experience you have had, including subject matter:

A:

Standardized Field Sobriety Instructor
Instructor – Accident Investigation, Technical Analysis, Accident Reconstruction

Q:

Have any of your accreditations ever been investigated, suspended or removed? (if yes, explain)

A:

No.

Q:

On how many occasions have you been retained as an expert?

A:

Over 100 times

Q:

For what area(s) of expertise have you been retained as an expert?

A:

Accident Reconstruction
Criminal Murder Cases with the Desoto Sheriff's Dept

Q:

In what percentage of your cases were you retained by the plaintiff?

A:

70%

Q:

In what percentage of your cases were you retained by the defendant?

A:

30%

Q:

On how many occasions have you had your deposition taken?

A:

20 occasions

Q:

On how many occasions have you been qualified by a court to give expert testimony?

A:

On over 10 occasions

Q:

On how many occasions have you testified as an expert in court or before an arbitrator?

A:

Over 50 times

Q:

For how many years have you worked with the legal industry as an expert?

A:

Over twelve years.

Q:

What services do you offer? (E.g.: consulting, testing, reports, site inspections etc.)

A:

Accident Investigation Consulting
Accident Reconstruction - crime scene analysis & mapping
Animation
Expert Reports
Expert Testimony & Depositions


Q:

What is your hourly rate to consult with an attorney?

A:

$300/hr

Q:

What is your hourly rate to review documents?

A:

$300/hour

Q:

What is your hourly rate to provide deposition testimony?

A:

$350/hour - 4-hour minimum

Q:

What is your hourly rate to provide testimony at trial?

A:

$350/hour - 4-hour minimum

Q:

Please list any fees other than those stated above (E.g.: travel expenses, copy fees, etc.)

A:

Travel - $150/ hour
Support Staff - $175/hour
Rush Rate 1 - 25% increase of hourly rate for work requested less than 10 days prior to deadline
Rush Rate 2 - 50% increase of hourly rate for work requested less than 10 days prior to deadline
---
---
---
---