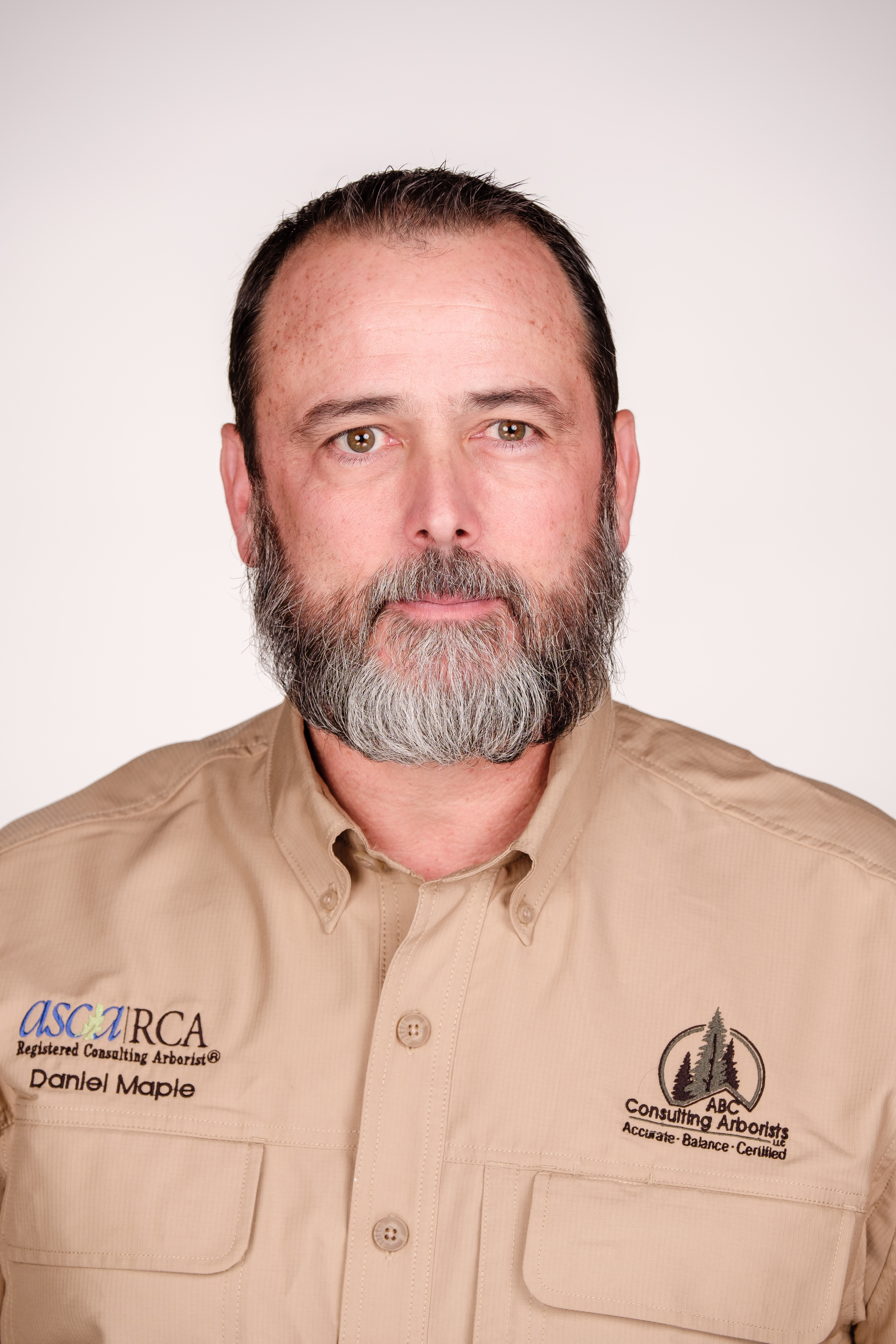 Daniel J Maple
A.B.C. Consulting Arborists LLC
12402 N Division, #294
Spokane , WA 99218
Mobile: 509-953-0293
Office: 509-953-0293
Introduction
Daniel Maple is a Registered Consulting Arborist (RCA #627), ISA Board Certified Master Arborist (BCMA #PN-7970BM), ISA Municipal Specialist (MS #PN-7970AM), ISA Tree Risk Assessment Qualified (TRAQ) and holds a Commercial Applicators License (CA #92432).

As of August 2017, there are 284 RCAs, 698 BCMAs, and 884 MSs in the world. Mr. Maple has the distinction of having all these qualifications as well as others. Mr. Maple is willing to travel within the U.S. to add his expertise to your team.

Mr. Maple has provided ethical, scientific sound arboriculture solutions to both the public and private sector for over 30 years. Mr. Maple owned and operated a tree service and was a first responder in several natural disasters that resulted in thousands of tree failures. His investigations into the tree failures and the experience gained, makes him uniquely qualified among his peers, as a risk assessor and risk mitigation planner.

Mr. Maple has used his years of hands on experience, along with his formal education, to advise States, Counties, Cities, Parks, Developers, Managers, Attorneys, HOAs, and the Private Sector, including but not limited to the follow:

• Casualty Appraisals
• Tree & Plant Valuation
• Forensic Investigations
• Municipal Tree Inventories
• Tree Risk Abatement Planning
• Insect and Disease Identification
• Municipal Tree Risk Assessments
• Expert Opinion and Litigation Support
• Infrastructure Damage and Abatement.
• Diagnosis of Tree and Landscape Problems
• Assess trees at the State Capitol for risk and health
• Integrated Pest Management and Plant Health Care
• Tree Preservation and Retention During Construction
• Tree Risk Assessment and Hazard Tree Identification
• Tree Management on Critical Slopes and Sensitive Areas
• Assess Trees in City, County, and National Parks (along with management plans and workshops)
---
Areas of Expertise
Tree/Arborist
Trees Appraisal
---
Expert Background
Q:

Please list your professional accreditations, degrees, licenses, and certificates granted:

A:

Registered Consulting Arborist (RCA) #627
ISA Board Certified Master Arborist PN-7970BM
ISA Certified Municipal Specialist PN-7970AM
ISA Tree Risk Assessment Qualified (TRAQ)
Licensed Commercial Applicator #92432

Q:

Please list your affiliations or memberships in any professional and/or industry organizations:

A:

International Society of Arboriculture
American Society of Consulting Arborists
Society of Municipal Arborists
Utility Arborist Association
Arboricultural Research And Education Academy

Q:

Please list any teaching or speaking experience you have had, including subject matter:

A:

Community workshops on decay and its implication on forest health; risks and management.
HOA and Associations: Tree Inventories; Risk Assessments and Risk Management; Duties, Liabilities and the Law.

Q:

Have any of your accreditations ever been investigated, suspended or removed? (if yes, explain)

A:

No

Q:

What services do you offer? (E.g.: consulting, testing, reports, site inspections etc.)

A:

Field and site investigations, lab and data analysis, written and oral reports, case consultation, expert witness, review of opposing expert reports, forensic investigations, tree and branch failure analysis, tree and plant appraisals.

Q:

What is your hourly rate to consult with an attorney?

A:

$225

Q:

What is your hourly rate to review documents?

A:

$250

Q:

What is your hourly rate to provide deposition testimony?

A:

$250

Q:

What is your hourly rate to provide testimony at trial?

A:

$250

Q:

Please list any fees other than those stated above (E.g.: travel expenses, copy fees, etc.)

A:

Travel expenses, parking, research, lab. fees, Resistograph testing, etc. Fee schedule upon request.
---
---
---
---