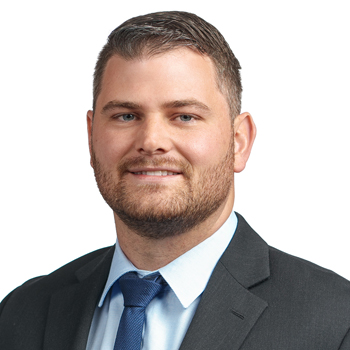 Chase Nalls
Robson Forensic
Introduction
Chase Nalls is an automotive engineer and crash expert specializing in the design and performance of airbag and restraint systems. He earned both his Master and Bachelor of Science degrees in Mechanical Engineering from Florida Atlantic University, where he was also Chassis Lead of their Formula SAE race team. As an expert at Robson Forensic, Chase's forensic casework focuses on crash reconstruction and vehicle crashworthiness disputes pertaining to occupant safety systems.

During his undergraduate studies, Chase worked as a Safety Systems Intern at Takata Protection Systems, and continued to work with Takata as a consulting engineer on design and production projects during his graduate program. In these roles, Chase gained valuable experience in the design and testing of airbags, seatbelts, and harness restraint systems for the military. Later in his career, at Fiat Chrysler (FCA/Stellantis), Chase worked as a senior design and release engineer on Ram and Jeep vehicles. He was responsible for airbag design and performance from initial concept through completion, which included extensive crash testing analysis in computer simulated environments as well as real-world sled and vehicle crash testing.

Chase is well versed in the standards and regulations that apply to occupant safety systems, and in the testing required for federal regulatory compliance, NHTSA's NCAP 5-Star Safety Ratings, and IIHS Safety Ratings. His experience at FCA/Stellantis also included benchmarking competitive vehicle safety equipment, granting him valuable insight about state-of-the-art technologies available in the market that prevent and reduce injuries when crashes occur.

Beyond his engineering experience, Chase is also an experienced mechanic and fabricator.
---
Areas of Expertise
Accident Reconstruction
Automobile Mechanical & Body Repair
Automotive
Automotive Engineering
Black Box/Data Recorder
Seat Belts & Air Bags
---
---
---