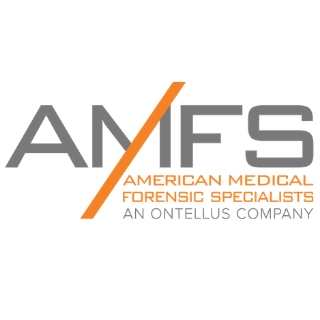 American Medical Forensic Specialists
1990 N. California Blvd., 8th Floor,


Walnut Creek, CA 94596
Introduction
MEDICAL EXPERTS FOR MALPRACTICE & PERSONAL INJURY CASES

American Medical Forensic Specialists (AMFS), an Ontellus Company, connects attorneys with the nation's preeminent Medical Expert Witnesses.

Established in 1990, we are a physician-founded network that has earned a reputation for listening to the needs of our clients and providing them with case-winning medical experts in every specialty and recognized sub-specialty. The superior method of obtaining Medical Expert Witnesses is what makes AMFS unique. As soon as you contact us, you'll be connected with a knowledgeable member of our team and physician Medical Director for a no-charge consultation to discuss the type of specialists needed. We have provided medical experts in over 15,000 legal matters and expert consultation assignments.

Our full suite of services includes:

• Free phone consultations with Medical Directors
• Flat fee Initial Case Reviews
• Medical Record Indexing and Chronology
• Investigative Tools for Expert Witness Analysis
• Expert Testimony Videos in Collaboration with Courtroom View Network (CVN)

Website: www.AMFS.com

Phone: (800) 275-8903

Email: medicalexperts@amfs.com
---
Areas of Expertise
Addiction Medicine
Alcohol
Allergy & Immunology
Alternative Medicine
Anesthesiology
Audiology
Auditing
Autopsies
Bariatric Medicine
Biomedical
Brain Injury
Breast Surgery
Burn Injury
Cardiology
Cardiothoracic Surgery
Cardiovascular Surgery
Child Abuse
Child Custody
Child Psychiatry
Child Sexual Abuse
Chiropractic
Colorectal Surgery
Community Mental Health
Competency
Coronavirus
Correctional Healthcare
Critical Care Medicine
Cruise Ship Medicine
Dental/Dentistry
Dermatology
Dive Medicine
DNA
Drug Abuse
Eating Disorder
Emergency Medicine
Emotional Trauma
Endocrinology
Environmental Medicine
Epidemiology
Family Practice/Family Medicine
FDA
Forensic Psychiatry
Forensic Psychology
Gastroenterology
General Surgery
Genetics
Geriatrics
Group Home
Gynecologic Oncology
Hand Surgery
Head & Neck Surgery
Health/Medical/Disability Insurance
Hematology
Hepatology (Liver)
Hospital & Medical Ethics
Hospital Administration
Hospitalist Medicine
Independent Medical Examinations
Industrial Medicine
Infectious Disease
Internal Medicine
Laparoscopic Surgery
Laser Surgery
Lead Poisoning
Legal Nurse Consultant
Life Care Planning
Long Term Care
Mammography
Managed Care & HMOs
Mass Torts
Maxillofacial Surgery
Medical Billing
Medical Devices
Medical Fraud
Medical Illustration
Medical Insurance
Medical Malpractice
Medical Toxicology
Midwife
Neonatology
Nephrology (Kidney)
Neurodevelopmental Disorder/Disability
Neurology
Neuropharmacology
Neurophysiology
Neuropsychiatry
Neuropsychology
Neuropsychopharmacology
Neuroradiology
Neurosurgery
Nuclear Medicine
Nursing
Nursing Homes
Nutrition
Obstetrics & Gynecology (OB/GYN)
Occupational Medicine
Oncology
Ophthalmology
Optometry
Orthopedic Surgery
Orthotics & Prosthetics
Osteopathy
Otolaryngology
Pain Management
Palliative Care
Pathology
Pediatric Critical Care
Pediatric Surgery
Pediatric Urology
Pediatrics
Perinatology/Maternal Fetal Medicine
Personal Injury
Pharmacology
Physical Medicine & Rehabilitation
Physical Therapy
Physician Assistants
Physiology
Plastic Surgery
Podiatry
Preventive Medicine
Proctology
Psychiatry
Psychology
Psychopharmacology
Pulmonary Medicine
Radiation Oncology
Radiology
Rheumatology
Sexual Abuse
Shaken Baby Syndrome
Sleep Medicine
Spine Surgery
Sports Medicine
Testamentary Capacity
Transplant Surgery
Trauma Surgery/Trauma Medicine
Undue Influence
Urgent Care
Urology
Vaccine
Vascular Surgery
Veterinary
Wound Care/Pressure Sores
Wrongful Death
---
References
Michael Cardoza, Esq.
San Francisco, California

"After all my years of medical malpractice litigation, I have finally found a medical-legal company that does it all. AMFS evaluates all of my cases with their unique multi-specialty screening process and then provides my medical experts for those cases deemed meritorious. This formula, I am thrilled to say, has resulted in one winning case after another."

Fellows & Hymowitz
New City, New York

"Quality, unbiased review from the inception of medical malpractice matters is why our firm values the expertise of AMFS. You are providing an exceptionally valuable service to the trial lawyers of America."