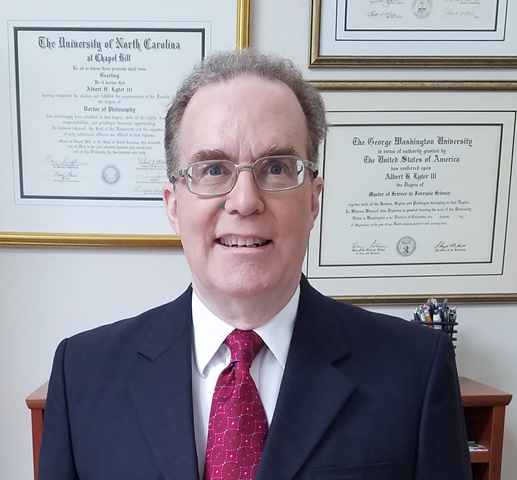 Albert H. Lyter, III, PhD
Federal Forensic Associates, Inc.
PO Box 31567


Raleigh, NC 27622
Introduction
Dr. Lyter provides consultation, examination, training, research and testimony in matters of forensic science, including ink and paper analysis, trace evidence, and questioned document examination. Qualified trace evidence areas include fire debris, explosives, paint, hair, fibers, glass, and wood. The validity of documentary evidence is of paramount interest in many different types of litigation and with advances in technology, many documents that could not be analyzed five years ago are now possible sources of important information, such as the answers to questions relating to the method and time period of preparation. Some of the materials Dr. Lyter examines are paper, ink, typewriter, computer printer, carbon paper, xerographic copies, and pencil.

He began his career in 1975 as a forensic chemist for the U.S. Treasury Department, Bureau of Alcohol, Tobacco and Firearms, National Laboratory Center in Rockville, Maryland, where he engaged in consultation, examination, training, research and testimony as service to federal and state law enforcement.

Dr. Lyter has been an instructor at the FBI Academy, Federal Law Enforcement Training Center, Naval Investigative Service, Air Force Office of Special Investigation, United States Secret Service, Florida Department of Law Enforcement, and colleges and universities.

He has lectured at numerous scientific and legal organization meetings including the American Academy of Forensic Sciences, American Society of Questioned Document Examiners, California Association of Criminalists, and the International Association of Forensic Scientists.

Court qualified in federal, state and military courts in over 33 states, U.S. Virgin Islands, Australia, Canada, Mexico, Malaysia and Singapore, Dr. Lyter has worked on several noteworthy cases, including the Mormon will of the late Howard R. Hughes; the slander trial of CBS, Sixty Minutes, and Dan Rather: Nazi war crimes case of Ivan Demjanjuk; the 2000 Sam Shephard murder trial; and Martha Stewart case.
---
Areas of Expertise
Chemicals
Document Examination
Explosions
Fire
Glass
Ink Dating
Materials
Paint & Coatings
Spectroscopy
---