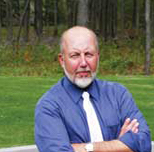 Von Salmi
Von Salmi & Associates, Inc.
P.O. Box 425


Westminster, MA 01473
Introduction
At Von Salmi & Associates, we are master homebuilders who have been constructing and renovating exceptional houses in Greater Boston and Metrowest for decades. Our substantial experience gives us the ability to visualize the big picture without missing any of the crucial details that make great houses work for you and last for years.

We know that building is a process. When followed correctly, successful outcomes occur. But when they aren't followed correctly, we're here to help. We're the area's leading construction forensics experts and often find ourselves working with the clients of other builders — after something has gone wrong.

When you are faced with a catastrophic issue like flooding or structural failure and your builder or contractor can't identify the problem and won't take responsibility, we will determine exactly what happened and who's at fault. And if legal action is necessary, we'll act as your expert witnesses — gathering factual evidence and testifying on your behalf.

Hoping to avoid problems in the first place? We will work with you from the beginning of your build or renovation project as your homeowner's representative, meeting with your contractor and sub-contractors to make sure that your desires are met, issues are addressed appropriately, and headaches are handled, so you won't have to worry, now or later.
---
Areas of Expertise
Construction
Construction Damages
Waterproofing
---