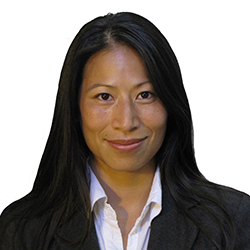 Valentina Ngai, Ph.D., P.Eng.
Robson Forensic Inc.
Introduction
Dr. Ngai is an expert in biomechanical & biomedical engineering. Her casework involves the investigation of traumatic injuries, including medical implants and devices; automobile crashes; and premises, workplace and sports injuries.

Dr. Ngai has been conducting research in biomechanics for nearly a decade. Her research focuses on the biomechanics of human motion, including laboratory testing and analysis of joint prostheses. Prior to her involvement in biomechanical engineering, Dr. Ngai worked for several years in civil engineering, conducting highway design, transportation planning, and traffic analyses.

Dr. Ngai earned her Ph.D. in Bioengineering from the University of Illinois at Chicago. She was published in various trade publications and has presented her research at numerous international conferences, including the Orthopaedic Research Society, Wear on Materials, and World Congress of Biomechanics. Dr. Ngai was an invited speaker at the 10th International Essen Symposium in Germany. She also holds degrees in Civil and Mechanical Engineering.
---
Areas of Expertise
Biomechanics
Biomedical
Civil Engineering
Human Factors
Mechanical Engineering
Medical Devices
Slip, Trip & Fall
---
---
---