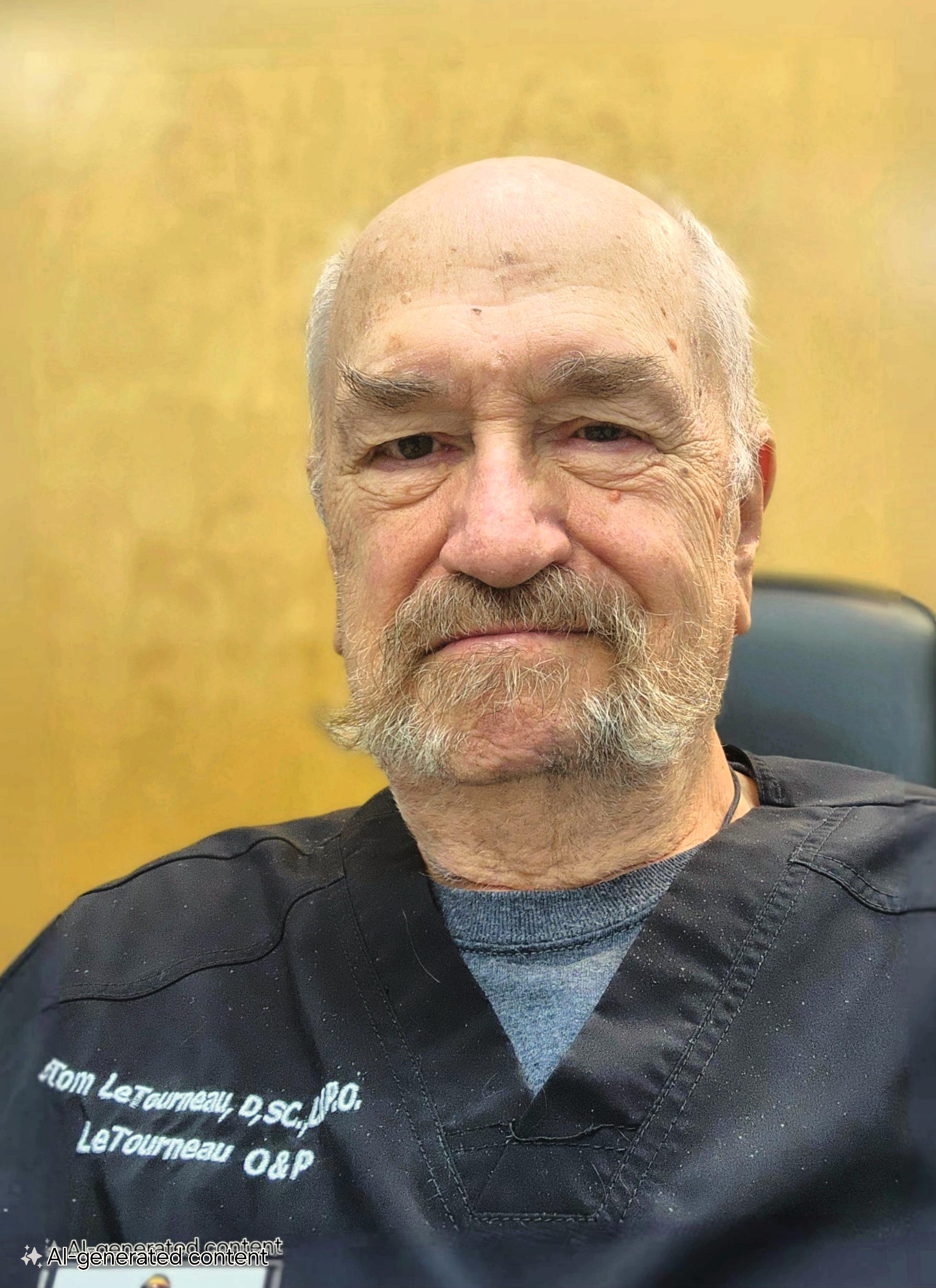 Mr. Thomas A LeTourneau C.P.O.,L.P.O.,F.A.A.O.P.
LeTourneau LifeLike Orthotics and Prosthetics, Inc.
p.o. box 21698


Beaumont, TX 77720
Mobile: 409-658-2225
Office: 409-658-2225
Fax: 409-832-5015
Introduction
The Highly Specialized Field of Orthotics and Prosthetics and the determination of the most
appropriate or mismanagement of your client's treatment can be confusing at best.
It is imperative that when your firm is retained for a case involving the utilization of a prosthetic or orthotic device,
your legal plan MUST include an American Board-certified prosthetist and orthotist expert to maximize your legal
defense plan.
Extensive experience as an expert in the Orthotic and Prosthetic field.
Numerous years of working with and consulting with numerous law firms throughout the United States, in all aspects of Prosthetics and Orthotics. I have been retained by both plaintiff and defendant firms.
My expertise extends from day-to-day operations of a multi-million dollar Orthotics and Prosthetics to manufacturing and design of orthotics and prosthetics at all levels.
I have over 45 years of experience in the field, and my credentials include certification by the American Board of Orthotist and Prosthetists, State of Texas Licensure, and Fellow of the American Academy of Orthotist and Prosthetists. I hold special manufacturing certifications in myoelectric Prosthetics, microprocessor prosthetics, and orthotics. I have experience in the design and fitting of all levels of amputation
Extensive work in coding and pricing of Orthotics and Prosthetics with life care planners, attorneys, and actuarial. I have also designed the " acti-ankle, "STealth A.F.O., smart walker, " and " No more knee pain" brace.
The expert is intimately knowledgeable in prosthetic
and orthotic clinical practice and management, component prescription recommendation, selection and
utilization for all patient ages and levels of function makes him an excellent resource for you as an
expert witness and consultant.
---
Areas of Expertise
Life Care Planning
Medical Valuation
Orthotics & Prosthetics
---
Expert Background
Q:

Please list your professional accreditations, degrees, licenses, and certificates granted:

A:

Certified Orthotist and Prosthetist American Board of Certification.
Licensed Orthotist and Prosthetist Texas Board of Orthotist and Prosthetists,
Fellow of the American Academy Of Orhotist and Prosthetists, Graduate of the Prosthetics and Orthotics program with the University Of Minnesota 916.
Certificates in Myo-electric in all manufacturers, certification in all microprocessors both feet and knees, certification in numerous lamination techniques, and certification in billing procedures.
Certification in Longs line, transtibial, transfemoral, upper extremity design, and manufacturing techniques.


Q:

Please list your affiliations or memberships in any professional and/or industry organizations:

A:

Member of the American Academy Of Orthotist and Prosthetists
Member and Fellow of the Academy
Member of the American Board Of Orthotist and Prosthetists
Member of the American Orthotist and Prosthetist Association

Q:

Please list any teaching or speaking experience you have had, including subject matter:

A:

Lectured at the University of Michigan Orthotics and Prosthetic Program 2020-2022 (remote)
Lectured Lamar University Nursing, Physical therapy and engineering programs.
Intern site for the American Academy of Certification for Orthotist and Prosthetist.

Q:

Have any of your accreditations ever been investigated, suspended or removed? (if yes, explain)

A:

no

Q:

On how many occasions have you been retained as an expert?

A:

approximately 15

Q:

For what area(s) of expertise have you been retained as an expert?

A:

Orthotics and Prosthetics design, function, usage, pricing

Q:

In what percentage of your cases were you retained by the plaintiff?

A:

25%

Q:

In what percentage of your cases were you retained by the defendant?

A:

75%

Q:

On how many occasions have you had your deposition taken?

A:

2

Q:

When was the last time you had your deposition taken?

A:

2021

Q:

On how many occasions have you been qualified by a court to give expert testimony?

A:

1

Q:

On how many occasions have you testified as an expert in court or before an arbitrator?

A:

2

Q:

For how many years have you worked with the legal industry as an expert?

A:

15

Q:

What services do you offer? (E.g.: consulting, testing, reports, site inspections etc.)

A:

consulting, testing, reports, inspections, opinions on fit and function

Q:

What is your hourly rate to consult with an attorney?

A:

If retained there is a 5 hour minimum which includes basic review of documents and concultaion

Q:

What is your hourly rate to review documents?

A:

$375.00

Q:

What is your hourly rate to provide deposition testimony?

A:

$425. 00 with a 5-hour minimum

Q:

What is your hourly rate to provide testimony at trial?

A:

$495.00 with an 8-hour minimum plus expenses and

Q:

Please list any fees other than those stated above (E.g.: travel expenses, copy fees, etc.)

A:

Travel expenses as approved by retaining firm or client,
---
References
Available Upon Request
Robert K. Wise
bwise@lwsattorneys.com
LWSattorneys.com
O:214-739-2005
c:972-816-8617
Lillard Wise Szygenda
---
---