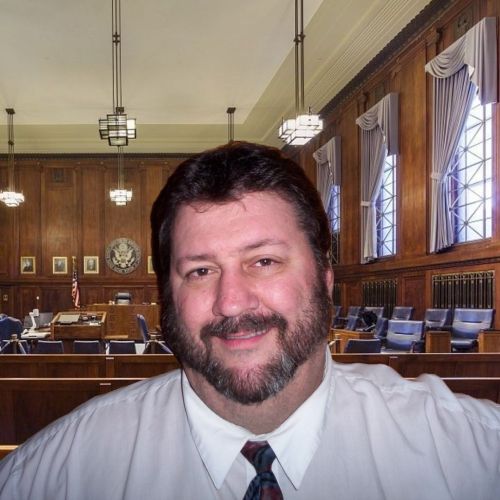 Steven J. Roensch
Roensch & Associates
Introduction
"If it bent or broke causing loss, injury or death, I can help explain the failure."™

Steve Roensch is a mechanical engineering consultant with 41 years of professional experience. He has analyzed hundreds of product designs and has served as an expert witness in 73 cases, testifying 21 times at deposition, court or arbitration.

Steve can be of assistance when a product fails in a physical manner, such as bending or fracturing, and the failure results in loss, injury or death. He will analyze the product design and the manufacture of the subject part, and determine what caused the failure. Typically, the product's stress distribution is compared to overload or fatigue failure criteria. Often, industry standards or a comparison to similar designs will help pinpoint the problem.

Steve has provided litigation consulting in the energy, construction, industrial, medical, transportation, marine, commercial, utility and residential industries. He has served as an expert witness, given deposition testimony, testified in court and arbitration hearings, and supplied legal team technical support. He has served as an expert on patent cases involving engineering product design.

Steve specializes in analyzing the physical stresses that arise in a product under various loading conditions, and in determining if the design is sufficient to survive such loads. He investigates product failures and accidents from a fundamental engineering perspective, often applying finite element analysis. He documents his efforts thoroughly from the start, for concise presentation to the legal team, other experts and the jury. Complex engineering principles are explained using everyday concepts that everyone can understand. Color stress plots and animations are used whenever possible to convey complicated engineering results in an easy to understand visual format.
---
Areas of Expertise
Aerospace Engineering
Agricultural Engineering
Equipment & Machinery
Industrial Engineering
Mechanical Engineering
Medical Devices
Petroleum Engineering
Transportation Engineering
Welding
---
Expert Background
Q:

Please list your professional accreditations, degrees, licenses, and certificates granted:

A:

• M.S. - Engineering Mechanics
• B.S. - Applied Mathematics, Engineering and Physics

Q:

Please list your affiliations or memberships in any professional and/or industry organizations:

A:

• ASME – American Society of Mechanical Engineers

Q:

Please list any teaching or speaking experience you have had, including subject matter:

A:

• Marquette University – Guest lecturer on engineering expert witnesses
• FEA Classes – Taught Finite Element Analysis theory and practice classes to many clients, including J.I. Case/International Harvester, Johnson Controls, Oshkosh Truck Corporation, Giddings & Lewis
• IBM Research & Development – Taught Variational Methods graduate-level mathematics class, focusing on the foundation of the finite element method
• University of Wisconsin – Taught Statics and Strength of Materials engineering classes

Q:

Have any of your accreditations ever been investigated, suspended or removed? (if yes, explain)

A:

No

Q:

On how many occasions have you been retained as an expert?

A:

73

Q:

For what area(s) of expertise have you been retained as an expert?

A:

• Product liability
• Personal injury
• Industrial accidents
• Transportation accidents including automotive, off-road, trucks, boats and aircraft
• Patent cases involving engineering design

Q:

In what percentage of your cases were you retained by the plaintiff?

A:

50

Q:

In what percentage of your cases were you retained by the defendant?

A:

50

Q:

On how many occasions have you had your deposition taken?

A:

17

Q:

When was the last time you had your deposition taken?

A:

August 25, 2022

Q:

On how many occasions have you been qualified by a court to give expert testimony?

A:

4

Q:

On how many occasions have you testified as an expert in court or before an arbitrator?

A:

4

Q:

For how many years have you worked with the legal industry as an expert?

A:

28

Q:

What services do you offer? (E.g.: consulting, testing, reports, site inspections etc.)

A:

Steve Roensch provides expert witness services in product liability, personal injury, industrial accidents, and transportation accidents including automotive, off-road, trucks, boats and aircraft. He provides patent expert services on cases involving designs in these areas. Approximately half of Steve's time is spent on actual engineering consulting on a wide range of products, from medical devices to marine engines, rock crushers to aircraft, farm equipment to the International Space Station.

Q:

What is your hourly rate to consult with an attorney?

A:

$300

Q:

What is your hourly rate to review documents?

A:

$300

Q:

What is your hourly rate to provide deposition testimony?

A:

$300

Q:

What is your hourly rate to provide testimony at trial?

A:

$300

Q:

Please list any fees other than those stated above (E.g.: travel expenses, copy fees, etc.)

A:

Routine costs, including but not limited to travel, airfare, mileage, parking fees, meals, photocopying, postage, shipping charges, video duplication, materials, equipment, outside laboratory tests, special printing, special insurance, special fees, and special evidence handling and storage
---
---
References
2017 – Chesapeake v. WDI Manufacturing, LLC
(Oil Field Equipment Failure)
Andrew D. Weinstock, Shareholder
504-832-3731
andreww@duplass.com
Philip Watson, Shareholder
504-830-4417
pwatson@duplass.com
Duplass, Zwain, Bourgeois, Pfister, Weinstock, & Bogart
3838 North Causeway Blvd.
Three Lakeway Center Ste. 2900
Metairie, LA 70002

2015 – Elliott v. Tractor Supply Company
(Replacement Wheel Cartridge Split Rim Failure; testified at deposition)
Geoffrey C. Brown, Esq.
Bordas and Bordas Attorneys, PLLC
1358 National Road
Wheeling, WV 26003
304-242-8410
gbrown@bordaslaw.com

2014 – Hoffman v. Dorel dba Cosco
(Hand Truck Wheel Rim Failure; testified at deposition)
Todd Falzone, Partner
Kelley Uustal
500 N. Federal Highway, Suite 200
Fort Lauderdale, FL 33301
954-522-6601
trf@kulaw.com

2013 – Deere v. Duroc et al.
(Mower Deck Patent Infringement)
R. Jason Fowler, Partner
Covington & Burling LLP
One CityCenter
850 Tenth Street, NW
Washington, DC 20001-4956
202-662-5046
jfowler@cov.com

2012 – Aries Well v. Hanover Insurance
(Oil Well Workover Rig Collapse; testified at deposition)
Richard D. Davis
Attorney-at-Law
(Semi-retired; adjunct professor at Texas Tech University School of Law)
4001 Godfrey Street
Midland, Texas 79707
432-894-1016
rdavis@rddlegal.com
---
---