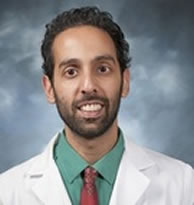 Dr. Sajid R. Khan, MD
2411 Holmes St.


Kansas City, MO 64108
Mobile: 913-271-4142
Office: 913-271-4142
Introduction
Board-certified Emergency Medicine physician and published author with over 15 years of experience working in a variety of settings from inner-city level 1 trauma centers serving 100,000 patients per year to 3-bed rural EDs.

Dr. Khan has served as a Medical Director, Oral Boards Examiner, and member of the Honor Council. He is ACLS (Advanced Cardiovascular Life Support), ATLS (Advanced Trauma Life Support), and PALS (Pediatric Advanced Life Support) certified. Dr. Khan is a member of AOA (the only national medical honor society in the world).

A published author, Dr. Khan has written a number of books including, The Ultimate Emergency Medicine Guide, a comprehensive review book that is the highest-rated and most up-to-date text for Emergency Medicine physicians preparing to certify.

He is a member of the AAPC (American Academy of Professional Coders) and is a certified professional coder. The CPC certification recognizes reliable mastery of profession-fee medical coding.

Litigation Support - Dr. Khan offers expert witness services to attorneys representing plaintiff and defendant. Licensed in Kansas, Missouri, Georgia, and Texas, he complies with the ACEP Expert Witness Guidelines and will provide an honest and unbiased opinion on Emergency Medicine Medical Malpractice and Negligence cases. Dr. Khan is available for consultation, chart review, and expert testimony.
---
Areas of Expertise
Coronavirus
Emergency Communications & 911
Emergency Medical Services
Emergency Medicine
HIPAA
Hospital & Medical Ethics
Medical Billing
Medical Malpractice
Trauma Surgery/Trauma Medicine
Urgent Care
---
---
---