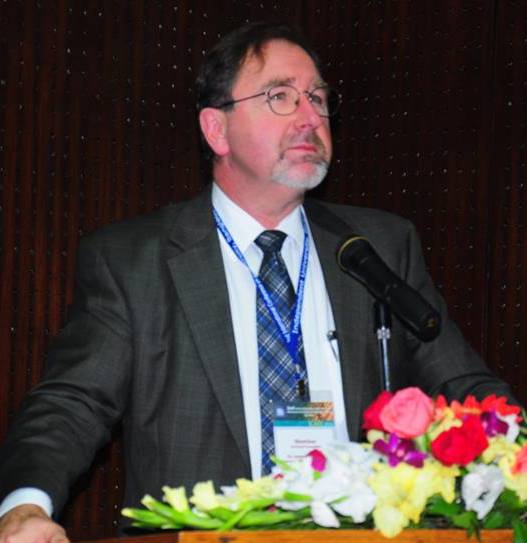 Dr. James J. Connors, P.G.
James J. Connors & Associates, LLC
311 Magnolia Avenue
Fairhope , AL 36532
Introduction
Dr. James J. Connors is a licensed Professional Geologist (P.G.) specializing in applied groundwater and surface-water related science. He has more than 35 years of experience, with award-winning bodies of work in both academia and the private sector. Dr. Connors has taught Hydrology and Hydrogeology at the university level and worked as a hydrological consultant for law firms, private individuals, engineering and environmental consulting companies, and corporations. He has also been retained as an expert witness in state and federal legal disputes. These have involved various water-related issues, including: Contaminant fate and transport; Stormwater infiltration, runoff, and flooding; and Sediment erosion, transport, and deposition.

Dr. Connors' website can be viewed at https://www.jamesjconnors.com.
His office is located at 311 Magnolia Avenue, Fairhope, AL 36532 and his mailing address is P.O. Box 1190, Fairhope, AL 36533.
He can be emailed at jjc@jamesjconnors.com.
---
Areas of Expertise
Environmental
Geology
Hazardous Waste
Hydrology & Groundwater
Pollution
Soil
---
Expert Background
Q:

Please list your professional accreditations, degrees, licenses, and certificates granted:

A:

DEGREES:
B.S. in Geology, University of South Alabama
M.S. in Geology, University of Alabama
Ph.D. in Marine Sciences (doctoral research in groundwater discharge to coastal surface water), University of South Alabama

LICENSURE:
Professional Geologist, State of Alabama, No. 1468
Stormwater, Erosion, and Sedimentation Control Inspector, Florida Department of Environmental Protection, No. 40130
Professional Geoscientist, State of Louisiana, No. 80
Registered Professional Geologist, State of Mississippi, No. 941
Professional Geologist, State of New York, No. 311
Professional Geoscientist, State of Texas, No. 4065

Q:

Please list your affiliations or memberships in any professional and/or industry organizations:

A:

AWARDS & HONORS:
2013 - Named one of the "50 Outstanding Faculty Members" in the history of the University of South Alabama
2013 - Presented the "Semoon Chang Endowed Humanitarian Service Award" by the University of South Alabama Faculty Senate and National Alumni Association
2013 - Named "Principal Emeritus" by the partners of Eco-Systems, Inc.
2011, 2012 - Received three "Top Prof" awards from the University of South Alabama Chapter of Mortar Board
2011 - President of the University of South Alabama Chapter of the Sigma Xi scientific research honor society
2011 - Presented the University of South Alabama College of Arts and Sciences "Outstanding Service Award"
2010 - Named "Faculty Member of the Year" by the University of South Alabama Student Government Association
2010 - Elected President of the University of South Alabama Faculty Senate
2009 - Named "Faculty Member of the Year" by the University of South Alabama Student Government Association
2009 - Inducted into the Sigma Xi scientific research honor society
2007 - Elected President of the Southwest Alabama Geological Society
2007 - Presented the University of South Alabama College of Arts and Sciences "Teaching Excellence Award"
1992 - Presented the "Eugene B. Waggoner Most Outstanding Young Professional Award" by Woodward-Clyde Consultants
1983 - Inducted into Sigma Gamma Epsilon national honor society for the Earth sciences

PROFESSIONAL MEMBERSHIPS:
American Geophysical Union (Member)
Geological Society of America (Member)
International Association of Hydrogeologists (Member)
Sigma Gamma Epsilon national honor society for the Earth sciences (Life Member)

Q:

Please list any teaching or speaking experience you have had, including subject matter:

A:

UNIVERSITY-LEVEL COURSES TAUGHT:
Hydrology (graduate- and undergraduate-levels)
Contaminant Hydrology/Hydrogeology (graduate- and undergraduate-levels)
Geophysics, environmental/near-surface half of course (undergraduate-level)
Geology Field School (undergraduate-level)
Physical Geology & Lab (undergraduate-level)
Earth History & Lab (undergraduate-level)
Various seminars and directed studies courses on Water-supply Hydrogeology, Risk Assessment, Groundwater Modeling, Applied Mathematics in Hydrogeology, Professional Ethics and Practice for Geologists, etc. (graduate- and undergraduate-levels)
Interdisciplinary Research (undergraduate-level)
Thesis Research (graduate-level)

Q:

Have any of your accreditations ever been investigated, suspended or removed? (if yes, explain)

A:

No.

Q:

On how many occasions have you been retained as an expert?

A:

I have been retained as an expert in more than 30 cases.

Q:

For what area(s) of expertise have you been retained as an expert?

A:

Hydrogeology (dealing with groundwater contamination sources, timing, fate, and transport)
Hydrology (dealing with surface-water contamination, stormwater runoff, erosion, sedimentation, wetlands hydrology, and flooding)
Environmental Science (dealing with surface-water and groundwater contamination and associated impacts)

Q:

In what percentage of your cases were you retained by the plaintiff?

A:

About 50%

Q:

In what percentage of your cases were you retained by the defendant?

A:

About 50%

Q:

On how many occasions have you had your deposition taken?

A:

Available on request

Q:

When was the last time you had your deposition taken?

A:

Available on request

Q:

On how many occasions have you been qualified by a court to give expert testimony?

A:

Available on request

Q:

On how many occasions have you testified as an expert in court or before an arbitrator?

A:

Available on request

Q:

For how many years have you worked with the legal industry as an expert?

A:

Available on request

Q:

What services do you offer? (E.g.: consulting, testing, reports, site inspections etc.)

A:

File reviews
Expert reports and opinions
Peer review of opposing experts
Depositions
Consulting, technical advice
Site inspections
Technical research
Technical assistance with Daubert and other motions
Sampling and testing
Computer modeling
Demonstrative evidence
Calculations
Drone reconnaissance of sites
Testimony

Q:

What is your hourly rate to consult with an attorney?

A:

$225

Q:

What is your hourly rate to review documents?

A:

$225

Q:

What is your hourly rate to provide deposition testimony?

A:

$225, 4 hours minimum

Q:

What is your hourly rate to provide testimony at trial?

A:

$225, 4 hours minimum

Q:

Please list any fees other than those stated above (E.g.: travel expenses, copy fees, etc.)

A:

Available on request
---
---
---
---
---