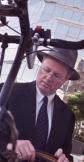 David A. Casteel
Casteel Accident Reconstruction, Inc.
1920 Cordell Court Suite #102


El Cajon, CA 92020
Office: 619-937-0502
Fax: 619-937-0507
Introduction
DAVID A. CASTEEL SENIOR COLLISION ANALYST
• Published author on collision analysis
• Extensive teaching and speaking engagements
• Member of the Society of Automotive Engineers
• Former Arbitrator, Accident Review Board, San Diego Transit Authority
• Designed Traffic Investigative Training Program for San Diego Police Department.
• Qualified expert in Accident Investigation and Accident Reconstruction, Superior and Municipal Court, California
• Qualified expert in Federal Court, United States District Court

Casteel Accident Reconstruction, Inc. works with other expert witnesses to produce 2D & 3D computer animation to present expert opinions as demonstrative evidence. Production is not limited to accident investigation. Please contact our Animation Production Department for further information.
---
Areas of Expertise
Accident Investigation
Accident Reconstruction
Aerial Photography
Automotive
Automotive Engineering
Bicycle
Biomechanics
Black Box/Data Recorder
Bus & Truck Safety/Accident
Crime Scene Analysis
Demonstrative Evidence/Exhibits
Lighting & Illumination
Mapping & Surveying
Motorcycles
Multimedia
Seat Belts & Air Bags
Traffic/Highway Safety
Visibility
---
Expert Background
Q:

Please list your professional accreditations, degrees, licenses, and certificates granted:

A:

• Bachelor of Science Degree, Mathematics, National University
• Associate of Arts Degree, Psychology, San Diego Evening College
• Completion of 18 Upper Division Units, Psychology, Chapman College
(Additional education background detailed in Mr. Casteel's full C.V.)

Q:

Please list your affiliations or memberships in any professional and/or industry organizations:

A:

• Society of Automotive Engineers (SAE) Full Member
• Southwestern Association of Technical Accident Investigators
• Association for the Advancement of Automotive Medicine
• The National Association of Professional Accident Reconstructionists
• San Diego County Accident Investigators Association (Vice-President)

Q:

Please list any teaching or speaking experience you have had, including subject matter:

A:

• Instructor of Advanced Accident Investigation at Miramar College, San Diego Community College District
• Instructor at Academy in Advanced Collision Investigation, including Skidmark Analysis, Time/Distance Studies
• Miracosta Community College, Basic Accident Investigation, four (4) hour class
• Riverside Academy of Justice, Human Factors, seven (7) hour class and an eight (8) hour class on Pedestrian Problems
• Lecture to DMV Heads (Mexico), Recognition/Documentation/Analysis of Physical Evidence at Traffic Collision Scenes
• Lecture to City Attorney's Office, Basic Collision Investigation and Accident Reconstruction
• Lecture to American Public Transit Association (APTA), Risk Management Program
• Lecture to Pacific Coast Gas Association, Accident Prevention Committee Meeting
• Lecture to San Diego Insurance Adjusters Association
• Lecture to San Diego Trial Lawyers Association, Low Speed Impact Profile
• Lecture to Lawyers and Judges convention attendees on Human Factors in Accident Reconstruction
• Lecture to Lawyers and Judges convention attendees on The Role of Human, Vehicle and Environmental Factors in Traffic Accident Cases
• Lecture to the Combined Claims Conference attendees on Accident Scene Investigation and Reconstruction.
• University of California, Riverside - Human Factors, eight (8) hour class
• Defendant's Expert at the American Law Firm Association International Mock Trial and Practical Skills - Seminar: Truckers on Trial, Newport Beach, April 2004
• Pedestrian collision reconstruction, Casteel, Beck & Associates lecture series, El Cajon, CA, March 2005
• Pedestrian collision reconstruction, Southwestern Association of Technical Accident Investigators, San Diego, November 2005

Q:

Have any of your accreditations ever been investigated, suspended or removed? (if yes, explain)

A:

No

Q:

On how many occasions have you been retained as an expert?

A:

I have been an accident investigator since 1979 and investigated more than 5,000 accidents. In the past ten years I have been retained as an expert in more than 1,500 cases.

Q:

For what area(s) of expertise have you been retained as an expert?

A:

Land based vehicular accident investigation and reconstruction involving automobiles, motorcycles, pedestrians, off-road vehicles, semi tractor / trailers, public transportation vehicles including busses and light rail, locomotive and cargo trains.

Q:

In what percentage of your cases were you retained by the plaintiff?

A:

In the past ten years,

Q:

In what percentage of your cases were you retained by the defendant?

A:

In the past ten years
---