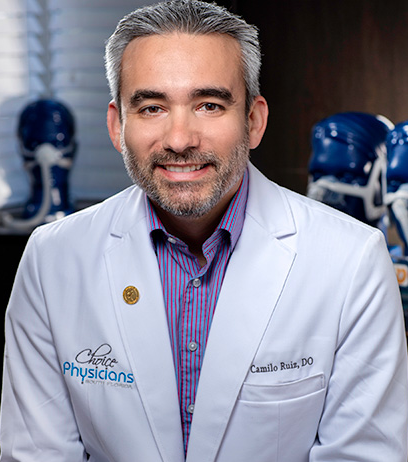 Dr. Camilo A. Ruiz, DO, FACOI, FAASM
Camilo Ruiz DO PA - Sleep & Internal Medicine Specialists
1319 SE 2nd Avenue


Fort Lauderdale, FL 33316
Office: 954-839-6987
Fax: 954-839-6923
Introduction
Dr. Ruiz would be glad to provide accurate and timely expert opinion regarding medical negligence cases relating to internal medicine, hospitalist medicine, and sleep medicine.

Dr. Camilo Ruiz is a dual board-certified internist and sleep specialist, fluent in both English and Spanish. Dr. Ruiz attended Florida International University earning a Bachelor of Science in Biological Sciences with Honors. He then went on to graduate from Nova Southeastern University with his Doctorate of Osteopathic Medicine degree. He completed an internal medicine residency in Miami also serving as Chief Resident. He then completed subspecialty training in sleep medicine and sleep disorders.

His private practice consists of hospital and office-based internal medicine. Furthermore, he is the medical director for Choice Physicians Sleep Center and provides full spectrum care for patients suffering with sleep disorders.

Dr. Ruiz has completed a three year term on American Academy of Sleep Medicine Coding and Compliance Committee that deals with Medicare reimbursement topics and relative value units. Also, he worked on the Educational Products Development Subcommittee and is an official spokesperson for the AASM, helping to advance the field of Sleep Medicine. Currently, Dr. Ruiz volunteers as a Clinical Assistant Professor of Internal Medicine at Nova Southeastern University, Florida International University Wertheim College of Medicine, and Florida Atlantic University Charles E. Schmidt College of Medicine.

In 2013, for his commitment to exceptional patient care and outstanding service, he was bestowed the honorary Fellow degree from the American College of Osteopathic Internists. Similarly, in 2017 he was bestowed honorary Fellow degree from the American Academy of Sleep Medicine for his professional achievements in the field of Sleep Medicine. Dr. Ruiz has been regularly featured on CNN en español, Mundo Fox's "Brown y Compañia", and Univision's "Despierta America." Furthermore, he is a routine contributor to both print and radio for his expert medical opinions.
---
Areas of Expertise
Family Practice/Family Medicine
Hospitalist Medicine
Internal Medicine
Medical Malpractice
Sleep Medicine
Wrongful Death
---
Expert Background
Q:

Please list your professional accreditations, degrees, licenses, and certificates granted:

A:

Doctor of Osteopathic Medicine, D.O. degree May 2007
B.Sc. Biological Sciences with Honors degree May 2002
Board Certified, Diplomate of the American Osteopathic Board of Internal Medicine September 2011 Certificate # 4261
Board Certified, Sleep Medicine, CAQ August 2013
Florida License OS 10517 October 2008
DEA Registered October 2008
Basic Life Support Provider (BLS)
Advanced Cardiac Life Support Provider (ACLS)
Pediatric Advanced Life Support Provider (PALS)
Advanced Trauma and Life Support Provider (ATLS)


Q:

Please list your affiliations or memberships in any professional and/or industry organizations:

A:

American Osteopathic Association (AOA) Member
American College of Osteopathic Internists (ACOI) Fellow
Florida Osteopathic Medical Association (FOMA) Member
American Academy of Sleep Medicine (AASM) Fellow
AASM Coding and Compliance Committee Member, June 2015-June 2018
AASM Educational Products Development Subcommittee Member
AASM Official Spokesperson


Q:

Please list any teaching or speaking experience you have had, including subject matter:

A:

CNN en español with Mercedes Soler "Realidades en contexto"
CNN en español with Dr. Azaret
Mundo Fox's "Brown y Compañia"
Univision's "Despierta America"
Al Jazeera America "Inside Story" Interview with Ray Suarez
US News and World Reports Article: Signs You're Tired Other Than Yawning May 2018
The DO Magazine Article: Working and preparing for the night shift during residency January 2018
Wine Spectator Magazine Article: How Does Alcohol Affect Your Sleep? From increased drowsiness to disrupted REM cycles, here's what happens when you booze before you snooze. December 2017
Interstate Postgraduate Medical Association Primary Care Update CME speaker "Sleep and Wellness" November 2014
Clinical Assistant Professor, Nova Southeastern University
Voluntary Clinical Faculty, Florida International University Wertheim School of Medicine
Clinical Affiliate Assistant Professor, Florida Atlantic University Charles E. Schmidt College of Medicine


Q:

Have any of your accreditations ever been investigated, suspended or removed? (if yes, explain)

A:

No

Q:

On how many occasions have you been retained as an expert?

A:

Experience with legal documentation and in-court testimony
Prior experience upon request

Q:

For what area(s) of expertise have you been retained as an expert?

A:

My expertise encompasses the full gamut of internal and sleep medicine in both the hospital and office settings. Internal medicine deals with medical conditions in each of these systems: cardiovascular, pulmonary, gastrointestinal, kidney, neurological, endocrine, musculoskeletal, hematological, etc.
Hospitalists deal with particular inpatient or hospital conditions that include sepsis, infection managements, deep venous thrombosis care, and care coordination. I have particular experience in this area as well.
My sleep expertise deals with conditions ranging from sleep apnea, drowsy driving, psychomotor vigilance, sleep and performance, work accidents, alertness, memory, attention, and cognition.

Q:

In what percentage of your cases were you retained by the plaintiff?

A:

50%

Q:

In what percentage of your cases were you retained by the defendant?

A:

50%

Q:

What services do you offer? (E.g.: consulting, testing, reports, site inspections etc.)

A:

Consulting
Medical Expert
Case reviews
Depositions
Testifying in court

Q:

What is your hourly rate to consult with an attorney?

A:

$400

Q:

What is your hourly rate to review documents?

A:

$450

Q:

What is your hourly rate to provide deposition testimony?

A:

$600

Q:

What is your hourly rate to provide testimony at trial?

A:

$600

Q:

Please list any fees other than those stated above (E.g.: travel expenses, copy fees, etc.)

A:

Travel expenses to be covered for more than 10 miles from zip code 33316
---
---
---