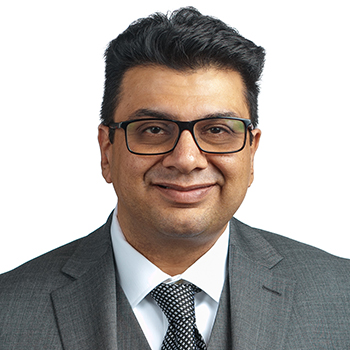 Ashutosh Khandha, Ph.D.
Robson Forensic, Inc.
Introduction
Dr. Ashutosh Khandha is a biomedical engineer with specific expertise in biomechanics. He earned his Ph.D. in Biomedical Engineering from the University of Delaware, after earning his M.S. in Bioengineering from the University of Toledo. For over 20 years, Dr. Khandha has conducted and published research related to medical devices and surgical implants. As an expert at Robson Forensic, he investigates disputes involving traumatic injuries including medical implants and devices, motor vehicle crashes, premises liability, in addition to workplace and sports injuries.

While working as the Director of Biomechanical Research at Applied Spine, Dr. Khandha designed, developed, and tested spinal implants that were subjected to FDA approval processes for clinical use. Dr. Khandha also conducted orthopedic implant research and testing at the University of Toledo's Engineering Center for Orthopaedic Research Excellence (E-CORE). Dr. Khandha went on to the University of Delaware, where he became an assistant professor and the Director of Clinical and Corporate Outreach in the Department of Biomedical Engineering.

Dr. Khandha has presented his research at numerous national and international conferences including the World Congress of Biomechanics, the Orthopaedic Research Society, and the American Society of Biomechanics. He has been published in the Journal of Orthopaedic Research, the Journal of Biomechanics, and the International Journal of Spine Surgery, among many others.
---
Areas of Expertise
Biomechanics
Biomedical
Failure Analysis
Human Factors
Medical Devices
Slip, Trip & Fall
---
---
---