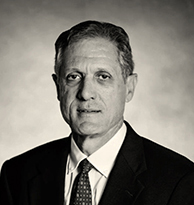 W. Dave Looney
The Warren Group, Inc.
7805 St. Andrews Road
Irmo , SC 29063
Introduction
Available Nationwide for:

Building Damage Assessment
Concrete Systems
Cracks, Settlement & Foundation Issues
Construction Defect Evaluation
Construction Means, Methods, and Scheduling
Site Design and Stormwater Runoff Control
Qualifying Party for SC General Contractor's License # G121095

Dave is a senior construction consultant with Warren. He has more than 40 years of experience in building construction and construction project management. He has managed projects ranging from wood-framed condominiums to state of the art manufacturing facilities.

Dave's work expertise includes failures in building systems, components, and envelopes; construction means and methods; duties of general contractors and subcontractors; and damage to buildings from storms, water, and other causes. He has in-depth knowledge of project planning, scheduling, and staffing.

Dave analyzes the severity, corrective actions, and responsibility for construction defects. He determines the scope of work and cost to repair damage to buildings or to correct construction defects. He conducts analysis of buildings and other structures for compliance to current and historical construction and maintenance codes.

Dave holds a Bachelor of Science degree in Building Construction from Clemson University. He is a South Carolina Erosion Control Inspector and is a past president of the Columbia, SC Contractors Association. Dave also holds the Qualifying Party for SC General Contractor's License # G121095.
---
Areas of Expertise
Building Codes
Concrete/Cement
Construction
Construction Damages
Hydrology & Groundwater
Water Utility
Waterproofing
---
---
---