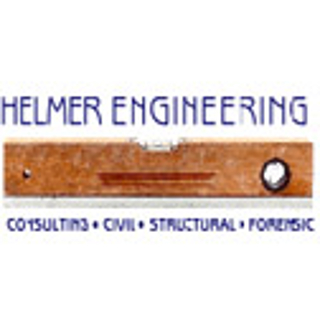 Ray G. Helmer
Helmer Engineering, Inc.
9314 Bankside
Houston , TX 77031
Office: 713-777-7611
Fax: 713-774-6881
Introduction
Mr. Ray Helmer is a Licensed Professional Engineer in the states of Texas, Oklahoma, Kansas, Alabama and Ohio. He is available to perform Expert Witness Services in any of the 50 states.

Ray Helmer has acted an Expert Witness and as a consultant to both the plaintiff and the defendant and their representing counsel in the resolution of numerous cases. He has been called as a consultant in cases involving insurance companies, utility companies, state highway departments, railroad companies, private companies, and land and commercial developers.

As an Expert Witness/Consultant, Mr. Helmer enjoys a reputation for his rigorous attention to detail and professional expertise. He spends a considerable amount of time inspecting the sites where the alleged instances occurred, taking photographs, preparing detailed surveys, and reports, reviewing witnesses' statements and depositions, and using his professional knowledge and expertise to provide accurate and impartial assessments.

Mr. Helmer's areas of expertise are civil engineering, earthwork engineering, professional engineering, structural engineering, traffic engineering, highway engineering, airport engineering, damages engineering, sanitary engineering, geotechnical engineering, airports, construction management, storm water management and drainage, highways and streets, water and wastewater, industrial plants, foundation, highway design and construction, plumbing, public works, road construction, sewers, concrete, cost estimate, damages, asphalt, building codes, building design, building inspection, construction claims, construction codes, construction defect, curbs, leaks, parking facility construction, sidewalks, general construction, highway lighting, uniform building codes, walls and ceilings, water damages, water intrusion, environmental engineer, hydrology, sewage backup, waste disposal, water pollution, construction failure analysis, structural analysis, detour signs, highway construction, highway maintenance, highway shoulders, traffic signals, soils engineer, street maintenance and hydraulic engineering.

Mr. Helmer has done numerous cases outside the state of Texas and he is available to travel throughout all 50 states for a new case.
---
Areas of Expertise
Accident Reconstruction
Airports/Airlines
Aviation
Brick & Stone
Building Codes
Bus & Truck Safety/Accident
Civil Engineering
Concrete/Cement
Construction
Construction Damages
Construction Safety
Design Engineering
Environmental
Environmental Engineering
Equipment & Machinery
Failure Analysis
Forensic Engineering
Geotechnical Engineering
Hydraulic Engineering
Hydrology & Groundwater
Labels & Warnings
Mapping & Surveying
Materials
Materials Engineering
Mining
Motorcycles
OSHA
Personal Injury
Pipelines
Plumbing & HVAC
Premises Liability
Products Liability
Professional Engineering
Public Contracts
Safety
Safety Engineering
Scheduling Delay & Analysis
Seismology
Slip, Trip & Fall
Structural Engineering
Traffic/Highway Safety
Transportation Engineering
Transportation Safety
Utilities
Vibration Analysis
Walking & Working Surfaces
Water/Sewage Treatment Engineering
Wrongful Death
---
---
---