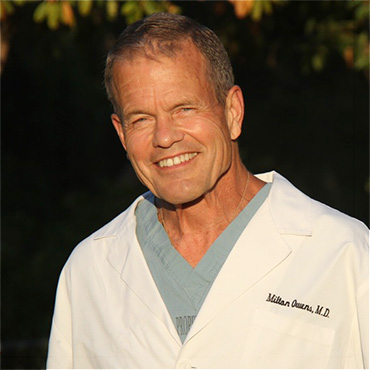 Dr. Milton Owens
2617 E Chapman Ave Suite #110
Orange , CA 92869
Introduction
Milton Owens, M.D., F.A.C.S., F.A.S.M.B.S - Forensic Services & Medical Expertise

Medical Director – Chapman Global Medical Center, Bariatric Program
Medical Director – Coastal Center for Obesity
Chief of Surgery – Chapman Global Medical Center

Areas of Medical Expertise: Bariatric and General Surgery:
Dr. Owens is available to assist legal professionals in civil matters relating to bariatric medicine, providing deposition and trial testimony, expert consultation and litigation support to defense and plaintiff attorneys.

Bariatric surgery
Gastric bypass
Sleeve gastrectomy
Morbidly obese
Weight loss surgery
Bariatric foregut surgery
Obesity
Laparoscopic gastric band
Nutrition and weight loss
Malabsorption

Forensic Expert Witness and Consulting Services:
Dr. Owens is a highly experienced bariatric surgeon. He can be called upon to consult and testify regarding bariatric surgery and complications resulting from procedures such as gastric bypass, sleeve gastrectomy and adjustable band surgery. Possible complications include bowel obstruction, leaks, locational misjudgments, post-operative management and care.

Consulting – expert medical consultations and trial preparation for attorneys:
Case review and report
Deposition
Trial – plaintiff and defense
Medical malpractice and wrongful death
Negligence
Standard of care


Milton Owens MD FACS FASMBS Stanford BA, McGill MDCM, Internship and Surgical Residency University of Utah, Nephrology Kidney Transplant Fellowship University of Utah, Major United States Army, Assistant Professor UCLA and Chief Kidney Transplant Service VA Wadsworth Hospital. He later began bariatric surgery and private practice in association with Dr. Carl Hill in San Pedro, California who developed and patented the 'Hill gastric clip' for weight loss. Dr. Owens did a brief preceptorship with Dr. Edward E Mason founder of the American Society for Bariatric Surgery and inventor of the vertical banded gastroplasty and gastric bypass operations. Dr. David Miller in Salt Lake City was most influential in perfecting the technique of gastric bypass. Dr. Owens studied Dr. Miller's techniques in Salt Lake City and in 1994 founded Coastal Obesity. Dr. Owens has performed over 7500 bariatric procedures with both open and laparoscopic techniques and has extensive experience in the revision of intestinal bypass and stomach stapling operations. He has 33 articles and several book chapters in the medical literature. Dr. Owens has been a frequent guest on both radio and television. He is an active member of the American Society for Metabolic and Bariatric Surgery (ASMBS), and served as its Chairman of Public Education Committee from 1999-2001. He is also a member of the Surgical Association for Gastrointestinal and Endoscopic Surgery, The Western Surgical Association and The American College of Surgeons.
---
Areas of Expertise
Bariatric Medicine
Eating Disorder
General Surgery
Medical Malpractice
Nutrition
Wrongful Death
---
---
---