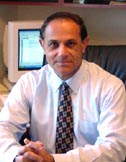 Marvin J. Paull
Actuarial & Financial Consulting
23905 Clinton Keith Road; #114-241
Wildomar , CA 92595
Mobile: 909-238-9200
Office: 951-458-9050
Introduction
Marv Paull owns and operates Actuarial & Financial Consulting. The firm provides employee benefit consulting services to companies, governmental institutions and the legal profession.

Areas of consulting include Retirement, Pensions, Group Health and Welfare for municipalities & non-profits (GASB 68 74,75; SOP 92-6; FAS 106; Patient Protection & Affordable Care Act) and for the private sector; Pensions, Health & Welfare, Fringe Benefits; Litigation Support and Benefit Related Human Resource and Communications projects.

Marv Paull has been in the employee benefits and insurance field for over 30 years having worked for "Big 4" accounting firms, consulting organizations and insurance companies. He is a Fellow of the Society of Actuaries, an Enrolled Actuary (licensed to practice before the IRS), a Member of the American Academy of Actuaries and has served as a Member of the Committee on Employee Benefit Accounting Matters for the American Academy of Actuaries. He has a B.A. degree in mathematics from the University of the City of New York. Among his professional activities, he was a Board Member of PIHRA in District 17, he has made a presentation to the President's Commission on U.S. Public Pension Policy, served as a member of the Actuarial Task Force to review Health Care Reform Legislation in 2009 and is active in several local and region wide industry groups.
---
Areas of Expertise
Actuary - Actuarial
Auditing
Business Valuation
Business/Employment Insurance
Health/Medical/Disability Insurance
Insurance Customs & Practices
---