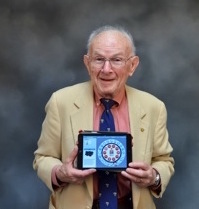 Dr. Martin E. Gordon, M.D.
Medical Films, LLC
One McKnight Place Suite #437
St. Louis , MO 63124-2014
Office: 203-507-5551
Fax: 314-991-6656
Introduction
Martin E. Gordon, M.D., F.A.C.P., F.A.C.G., F.A,S.G.E., F.A.A.A.S.

Prior Clinical Professor of Medicine Yale University School of Medicine Emeritus Chairman and Lifetime Trustee, Cushing/Whitney Medical Library Board Academy Dean, Finalist Judges, Int'l Health& Medical Media Festivals Finalist Judge, International Robotic Scholarship Competition, FIRST Foundation Research Associate, Missouri Botanical Garden,Consulting Director, Enhancing Biomedical Knowledge TROPICOS Int'l Data Bank Program, Society of Emeritus Professors, Washington University, Board Senior Advisor, St. Louis Science Center CEO Medical Films, LLC.

He is known widely for his unbiased objectivity.
---
Areas of Expertise
Biomedical
Gastroenterology
Medical Devices
Medical Toxicology
---
---
---