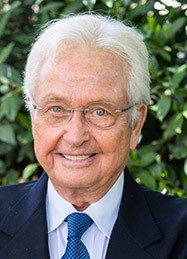 Mr. James F. McMullen
The McMullen Company, Inc.
1260 Lake Boulevard, Suite 226
Davis , CA 95616
Office: 530-757-1291
Fax: 530-757-1293
Introduction
Fire expert James F. McMullen is the retired Chief California State Fire Marshal. He has testified over 150 times in court or deposition, with 50 years of experience in fire department operations, fire and building code administration and fire training. He is the President of The McMullen Company, Inc. (TMC)

TMC is a leading forensic fire consulting firm and has been involved in such cases as the, ABC Day Care fire in Hermosillo, MX, Station Night Club fire in Rhode Island, World Trade Center Tower 7 collapse, furniture store fire in North Carolina, the Oakland Hills fire and many others.

Mr. McMullen can provide court qualified expert witness in fire cause and origin, fire spread, code compliance, fire protection means and methods, fire system failure analysis, contributory factors, hazardous materials analysis and management, fire safety system failure analysis including exiting, building construction, emergency lighting, fire systems, fire reporting and fire suppression.

He can also provide analysis of fire department operations, safety procedures, fire scene management, emergency vehicle operations and fire fighting operations.

TMC has a comprehensive team of Senior Associates located throughout the nation. Each Senior Associate has varied and extensive experience in different aspects of fire safety, engineering, fire service management, wildland fire cost analysis, fire investigation and building and fire code requirements along with experience with various codes and standards published by the National Fire Protection Association (NFPA).
---
Areas of Expertise
Above Ground Storage Tank (AST)
Accident Investigation
Architect Liability
Architecture
Automotive
Boilers
Building Codes
Burn Injury
Chemicals
Construction
Construction Damages
Consumer Products
Crime Scene Analysis
Disaster Management
Electrical
Electronics
Equipment & Machinery
Explosions
Failure Analysis
Fire
Fire & Life Safety
Fire Sprinkler Systems
Furnaces
Hazardous Materials
Oil & Gas
OSHA
Personal Injury
Pipelines
Private Investigators
Products Liability
Refineries
Roofing
Safety
Safety Engineering
Scheduling Delay & Analysis
Tires
Water Utility
Windows
Wrongful Death
---
---
---