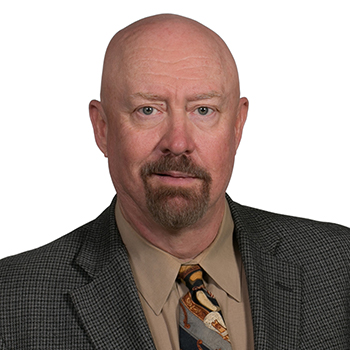 J. Tim Potter, Ph.D., PAS
Robson Forensic, Inc.
Lexington, KY Area Office
Available Nationwide , KY 40504
Office: 859-327-5908
Fax: 859-212-0806
Introduction
Dr. Potter is an Equine Scientist with experience in both the academic and corporate sectors. He provides technical investigations, analysis, reports, and testimony toward the resolution of commercial and personal injury litigation involving areas of equine science, including appraisals, behavior and training, facility design and construction, fencing, nutrition, reproduction, and safety issues.

• Nutrition work includes feed formulation and production issues, on-farm feeding management, and analyses of interactions between formulated feeds and use of supplementation in the total diet.

• Reproduction work includes evaluation of nutritional status and reproductive efficiency, manipulation of the estrous cycle and effects of stress and environmental factors associated with reproductive status.

• Behavior and training work includes behavioral factors associated with training, and evaluation of potential abuse issues associated in the training process.

• Safety work includes evaluation of factors and scenarios that are related to safety, including lesson barns, safety issues at horse shows and at private facilities, and determining on-site person(s) of knowledge.

A lifetime owner, trainer and breeder of Quarter Horses, Dr. Potter's academic experience includes teaching and extension work in areas of animal science, including nutrition, feeds and feeding, reproduction, behavior and training, safety issues, farrier science, and climatic factors influencing productivity. Dr. Potter published many technical articles and manuals related to equine science. His corporate experience in the feed industry includes education and training of sales staff, feed dealers and horse owners, as well as work with formulation, pricing, distribution and marketing.

Dr. Potter has served on many state, regional, and national committees, including the American Youth Horse Council. In addition, he has coached many judging and riding teams, in youth as well as collegiate divisions. Dr. Potter received his B.S. (Animal Science), M.S. (Physiology of Reproduction), and Ph.D. (Physiology of Reproduction) degrees from Texas A&M University in 1983, 1986 and 1990, respectively.
---
Areas of Expertise
Agricultural
Animals
Horse
Livestock
Personal Injury
---
Expert Background
Q:

Please list your professional accreditations, degrees, licenses, and certificates granted:

A:

Professional Animal Scientist Certification, American Registry of Professional Animal Scientists
Certified Member, American Society of Equine Appraisers


Q:

Please list your affiliations or memberships in any professional and/or industry organizations:

A:

American Association of Equine Appraisers
American Registry of Professional Animal Scientists
American Bar Association, Animal Law Committee
American Society of Animal Science
Equine Science Society

Q:

Please list any teaching or speaking experience you have had, including subject matter:

A:

Details in CV.
---
---
---