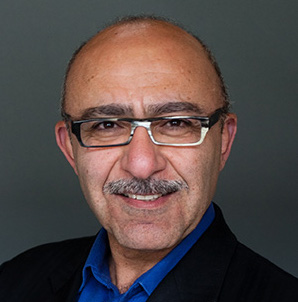 Dr. Homayoon Kazerooni
2806 Ashby Ave.
Berkeley , CA 94705
Introduction
Dr. Homayoon Kazerooni, is a Mechanical Engineer who conducts research on Robotics, Control Sciences, Exoskeletons, Human-Machine Systems and Augmentation, Bioengineering, Mechatronics Design, Artificial Locomotion, Intelligent Assist Devices, and Power and Propulsion. Holding 15 patents, Dr. Kazerooni is a Professor in the Mechanical Engineering Department at the University of California, Berkeley and director of the Berkeley Robotics and Human Engineering Laboratory, affectionately known as "KAZ LAB".

Dr. Kazerooni is one of the pioneers in Design and Control of Machines and Robotic Systems Interacting with Humans. After developing BLEEX, ExoHiker, and ExoClimber – three super-light, load-carrying exoskeletons – Berkeley Bionics and his team created HULC (Human Universal Load Carrier). It is the first energetically-autonomous, orthotic, lower extremity exoskeleton, providing the ability to carry 200-pound weights over any terrain for an extended periods of time without undue effort.

Dr. Kazerooni also led his team to successfully develop robotics systems that enhance human upper extremity strength. The results of this work led to a new class of Intelligent Assist Devices currently being used by workers worldwide for manipulating heavy objects in distribution centers and factories.
---
Areas of Expertise
Equipment & Machinery
Ergonomics
Hydraulic Engineering
Machine Guarding
Mechanical Engineering
Patents
Products Liability
Robotics
---