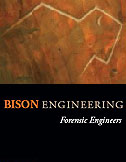 David W. Heldenbrand, P.E.
Bison Engineering, Inc.
3423 Rivers Edge Trail
Houston , TX 77339
Office: 281-359-2476
Fax: 281-359-2591
Introduction
Legal professionals who require a high degree of excellence and integrity turn to the forensic engineers at Bison to scientifically conduct an investigation relating to a fire or explosion, electrical incident, carbon monoxide incident, an equipment or mechanical failure, or accident reconstruction to determine the cause of a destructive event.

Bison is a multidisciplined engineering firm, specializing in forensic engineering, failure analysis and fire sciences, with a team of P.E.'s who have performed thousands of forensic assignments including fuel gas, electrical, and mechanical failure investigations.

Qualified engineers provide consultation, investigation, accident reconstruction, specialized testing, and scientific analysis.

Bison's clients argue their cases with confidence, secure in the knowledge that their claims are based on unbiased, scientific data. For more information, call 281.359.2476 or visit our website at the link above.
---
Areas of Expertise
Accident Investigation
Accident Reconstruction
Analytical Testing Labs
Automotive
Automotive Engineering
Biomechanics
Black Box/Data Recorder
Boilers
Burn Injury
Bus & Truck Safety/Accident
Carbon Monoxide Poisoning
Chemical Engineering
Chemicals
Chemistry
Civil Engineering
Combustion Engineering
Computers
Construction
Consumer Products
Conveyors
Corrosion
Cranes
Demonstrative Evidence/Exhibits
Electrical
Electrical Engineering
Electronics
Elevator & Escalator
Environmental
Environmental Engineering
Equipment & Machinery
Evidence Analysis & Preservation
Explosions
Failure Analysis
Fatigue
Fire
Fire & Life Safety
Fire Sprinkler Systems
Fitness Equipment
Forensic Engineering
Forklifts
Fuels
Furnaces
Gas Turbine Engineering
Helmets
Human Factors Engineering
Hydraulic Engineering
Ladders & Scaffolds
Landscape Design
Lifts
Lighting & Illumination
Machinery & Equipment Appraisal
Materials
Materials Engineering
Mechanical Engineering
Medical Devices
Metallurgy
Microwave
Networking
Oil & Gas
Personal Injury
Petroleum Engineering
Pipelines
Plumbing & HVAC
Private Investigators
Products Liability
Professional Engineering
Refineries
Roofing
Safety Equipment
Seat Belts & Air Bags
Semiconductors
Slip, Trip & Fall
Storage
Structural Engineering
Tractors
TurboMachinery
Utilities
Water/Sewage Treatment Engineering
---