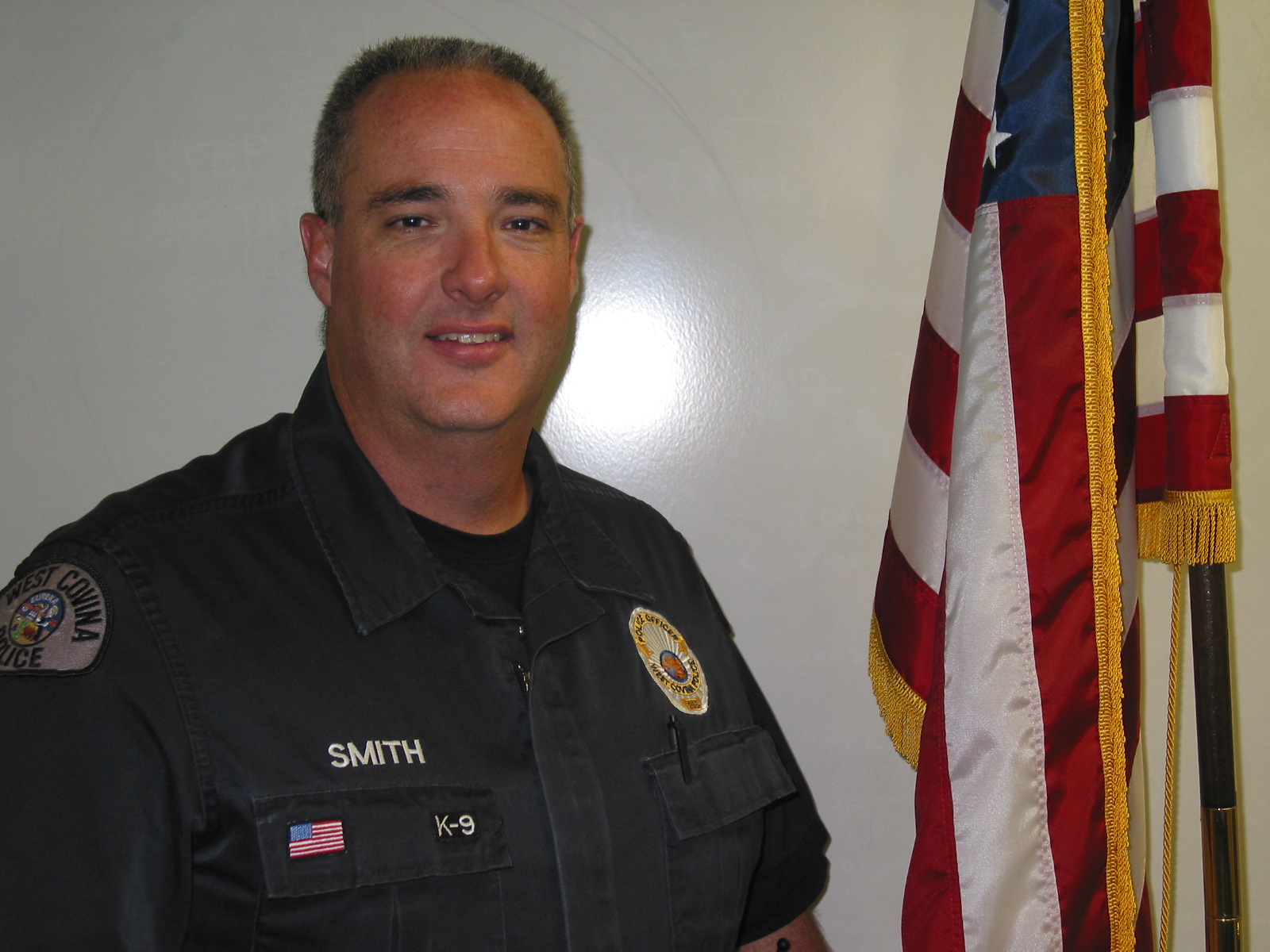 Brad Smith
Canine Tactical Operations
Po Box 1682


Gun Barrel City, TX 75147
Mobile: 626-523-4028
Office: 626-523-4028
Introduction
Brad Smith retired from the West Covina Police Department in southern California after 30 years of service. I've been a K9 trainer for 35+ years, a K9 handler for 20 years, SWAT team member for six years and a K9 SWAT handler for 18 years.

I am a graduate of California POST Master Instructor Program where I designed and implemented the first and only POST approved K9 SWAT School (SKIDDS) and CAnine Tactical School (CATS) in the State of California.

Since 1988 I have lectured, taught, and trained thousands of K9 handlers, SWAT operators, patrol officers and supervisors throughout the United States, Canada, Brazil, Costa Rica, Australia and China. I currently interact and teach numerous SKIDDS and CATS classes to law enforcement agencies each year.

In 1997 I started a company called Canine Tactical Operations and Consulting (K9 Tac Ops) where I provide K9 expert witness opinions as well as high risk K9 tactical courses for patrol and SWAT.

I'm one of this country's leading K9 tactical experts when it comes to high risk patrol K9 deployments and K9 SWAT deployments. My credentials, training, experience and expertise are impeccable and second to none.

Since 1997 I have consulted and provided expert witness opinions on K9 use of force across the country. I have been retained and testified as an expert witness for civil litigation and criminal cases in state and federal courts, regarding K9 tactical searches, police practices, industry standards, training and use of force in Arizona, California, Colorado, Florida, Idaho, Indiana, Louisiana, New Mexico, Ohio, Oklahoma and Washington.

I will examine the documents and evidence in your case. I will give you a comprehensive and impartial case evaluation and review from the standpoint of proper and accepted best police practices, professional standards, training and procedures.

I can go beyond the reports and depositions by bring vital and critical details to light that most people would not recognize. I can stand up to the pressure of cross-examination and provide strong, clear, robust and concise information to the jury.

I also provide K9 unit readiness evaluations to assure your K9 unit is current and up-to-date with regards to: selection of dogs, K9 handlers, training, documentation, F.L.S.A., use of force, report writing, as well as developing and updating your K9 policy.

Since 1999 I have been National K9 Chairman for National Tactical Officers Association.

I've authored two books, "K9 Tactical Operations for Patrol and SWAT" and "K9's in the Courtroom." I've published over 135 articles for a wide variety of publications.

Protect your city and your employees by using my experience and expertise. If you think I can help you, I can send you my complete CV, retainer and fee schedule.
---
Areas of Expertise
Deadly/Excessive Force
Dogs
Law Enforcement
Police Procedures
---
Expert Background
Q:

Please list your affiliations or memberships in any professional and/or industry organizations:

A:

Current and previous memberships
N.P.C.A. National Police Canine Association
N.T.O.A. National Tactical Officers Association
C.A.T.O. California Association of Tactical Officers
I.S.O.A. Indiana SWAT Officer Association
S.O.T.A. Special Operation Training Association
A.L.E.C.A. Arizona Law Enforcement Canine Association
W.L.E.C.A. Wisconsin Law Enforcement Canine Association
I.T.O.A. Illinois Tactical Officer Association
L.A.C.P.C.A. Los Angeles County Police Canine Association
I.E.P.C.A. Inland Empire Police Canine Association

Q:

Please list any teaching or speaking experience you have had, including subject matter:

A:

2020 - 1997: 236+ S.K.I.D.D.S. & CATS classes: USA, Canada, Brazil, China and Costa Rica
2020 - 2011: California Narcotics Canine Association
2020 - 2007: Police K9 Magazine/ Invictus Law Dogs
2019 - 2007: HITS instructor
2019, 2017, 2014 - 2009: NPCA National convention
2019 - 2017: Working Dog Magazine conference
2019, 2017 - 2013, 2011, 2005: California Association of Tactical Officers
2019, 2013, 2010: K9 Cop Magazine Seminar
2019, 2011: Texas Tactical Police Officers Association conference
2017 - 2014, 2010: NTOA SWAT seminar
2017 - 2014, 2011, 2009, 2006 – 1999: A.L.E.C.A. Officer Survival Instructor
2017 - 2016: Tac Ops West Conference Las Vegas, NV
2016 & 2001: Oregon Police Canine Association Annual Conference
2016, 2011: Georgia SWAT Officers conference
2015 - 2011: Special Operations Training Association seminar
2014, 2001: SWAT Round-Up in Orlando Florida
2012: Michigan Tactical Officers Association conference
2012: Wisconsin Tactical Officers Association conference
2011, 09-08: New York Tactical Officers Association
2011: Indiana SWAT Officers Association (ISOA) conference
2010, 08, 06, 04, 02: Brazilian Military Police K9 Spec Ops, Sao Paulo Brazil
2009, 08, 05, 04: Canadian Police Seminar in Vancouver and Montreal
2009: Australia K9 Conference
2008, 2005, 2002: K9 Tactical Workshop instructor in ABQ, New Mexico
2008 – 2001: Utah Co. K9 workshop / SWAT Dog Cert / Championship
2008: H.R.T. West SWAT seminar
2006 & 2001: K9 Tactical Conference: Madison & Waukesha Co, WI
2006 & 2002: Illinois Police Working Dog Association Seminar
2006 & 2003: Idaho Police K9 Association seminar
2006: Police K9 Training Institute in Ft Lauderdale, Florida
2006: Hawaii Sheriff's Department and Honolulu Police Department
2005: Washington State Police Canine Association
2004 – 2002: Arizona Department of Public Safety SWAT Team
2004 – 2003: USPCA Region 3 K9 S.K.I.D.D.S. Frederick, Maryland
2003: Illinois Tactical Officers Association Annual Seminar
2003 – 2002: NPCA/NAPWDA Officer Survival Seminar Ocean City MD
2003: Wisconsin SWAT Association Annual Conference
2002: Brazilian Military Police SWAT & Canine: Florianopolis, Brazil


Q:

For what area(s) of expertise have you been retained as an expert?

A:

I have been retained and testified as an expert witness for civil litigation and criminal cases in state and federal courts, regarding: K9 tactical searches, police practices, industry standards, training and use of force, Monell issues, K9 as deadly force in Arizona, California, Colorado, Florida, Idaho, Indiana, Louisiana, New Mexico, Ohio, Oklahoma and Washington.

Q:

What services do you offer? (E.g.: consulting, testing, reports, site inspections etc.)

A:

Consulting
Site inspection
Case review - documents and evidence examination
Deposition and deposition prep
Federal Rule 26 report and state reports
Unit assessment and readiness evaluation
Expert witness opinions
Dog and handler selection
Unit training evaluation
F.L.S.A. compliance
Use of force
Report writing
Oral boards
K9 policy
Monell issues
K9's as deadly force
---
---
---