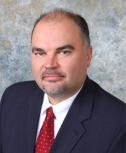 Andrew Amorosi, P.E., R.S.
The Falcon Group
Introduction
Mr. Amorosi is the managing principal for engineering design and production for the firm's civil engineering design projects. Included are residential subdivision lot layout, street and roadway design, including horizontal and vertical geometry, stormwater management, drainage, grading and wastewater sewer design. Mr. Amorosi is also responsible for the preparation of plans and specifications for the implementation of roadway construction, sanitary sewer and drainage improvements. Related areas of work include preparation of applications to the New Jersey Department of Environmental Protection for Stream Encroachment Permits, Wetland Permits, and Sanitary Disposal Permits, Municipal and County Planning Boards, and Soils Conservation Service Offices. Mr. Amorosi has extensive experience in 3rd party plan and specification review.

Mr. Amorosi has extensive experience in site feasibility analyses for land development as well as below grade water infiltration detection, waterproofing designs and foundation reconstruction.

Mr. Amorosi maintains the chief responsibility for the inspection and observation of all site-related construction for multi-family developments, including the preparation of estimates for bonding and final inspection and release of sureties posted by the Developer.

Mr. Amorosi conducts the analysis of numerous site construction problems, roadway reconstruction projects and the preparation of design documents for correction of these problems, the preparation of design documents and specifications for the replacement of retaining walls, detention basins, decks/balconies, and the analysis and design of remedial construction measures for foundation-related problems, including water infiltration and foundation failures. Remedial measures have ranged from reinforcing existing foundations and installation of waterproofing measures, to complete removal and replacement of existing foundations walls.

Mr. Amorosi is also the managing principal for the preparation of Capital Reserve Studies and Transition or Engineering Reports for Community Associations and has achieved the CAI National Professional Designation as a Reserve Specialist (R.S.).

Other Community Association related projects have included analysis and development of corrective measures for failing stormwater and sanitary sewer systems, and other site design defects. Mr. Amorosi sustains a high involvement in the evaluation of Community Association common elements to determine the feasibility of replacement or repairs.

Mr. Amorosi is a NJCAI certified mediator.
---
Areas of Expertise
Architecture
Civil Engineering
Geotechnical Engineering
Professional Engineering
Traffic/Highway Safety
Transportation Construction
Transportation Engineering
Water Utility
Water/Sewage Treatment Engineering
Waterproofing
---
---
---