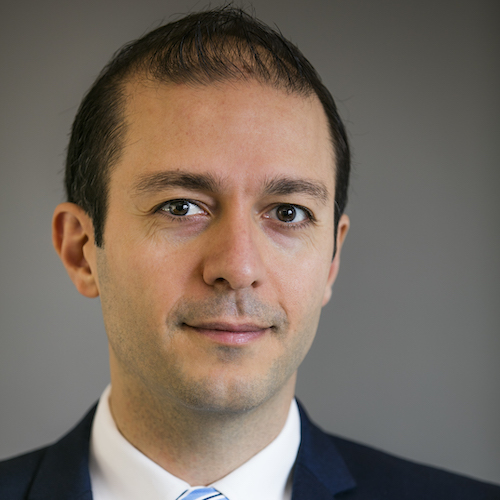 Dr. Ali Khosh
Quandary Peak Research
205 S Broadway
Los Angeles , CA 90012
Mobile: 323-545-3926
Office: 323-545-3926
Fax: 888-959-2461
Introduction
Dr. Ali Khosh is a computer scientist and software technology consultant with over a decade of research, development and management experience in various areas of computer science with leading tech companies around the world, including Microsoft, Yahoo! and Samsung. Ali currently serves as an expert witness in software-related litigation, such as patent infringement and breach-of-contract matters.

Ali received his masters and Ph.D. in computer science from The George Washington University and The University of Southern California, respectively. He conducts research in the field of software systems and engineering, spanning the areas of mobile software, Internet, Internet of Things (IoT), software development, embedded software, software quality and reliability assurance and web applications.

Ali has authored several peer-reviewed academic papers, magazine articles and book chapters related to software engineering in top conferences and publications with over 1000 citations. He has delivered various invited speakers, seminars, lectures, and technology demonstrations at domestic and international software industry events and computer science conferences.

Ali has filed 15+ patents in areas of intelligent systems, social networks, privacy and security, information management, internet-enabled TV and advertising with The University of Southern California, Yahoo! and Samsung (4 granted).
---
Areas of Expertise
Cell Phones
Computers
Information Technology
Intellectual Property
Internet
Multimedia
Networking
Patents
Software
Software Engineering
Technology
---
Expert Background
Q:

Please list your professional accreditations, degrees, licenses, and certificates granted:

A:

I received my Ph.D. in 2010 from the Department of Computer Science at The University of Southern California. Prior to that, I received a M.Sc. in 2005 from the Department of Computer Science at The George Washington University, and a B.Sc. from the Computer Engineering Department at Sharif University of Technology.

Q:

Please list any teaching or speaking experience you have had, including subject matter:

A:

I have delivered numerous guest lectures on various areas of computer science and software engineering at the University of Southern California, The George Washington University and The California State Polytechnic University, Pomona. I have also delivered over 50 invited lectures, seminars, and technology demonstrations at computer science conferences and software industry events.

Highlighted Speaking Engagements:
- Judge, Demo Day, Object Oriented Design and Programming Course, University of Cal Poly
Pomona (2013)
- Keynote Speaker, Iranian American Society of Engineers and Architects, Irvine, CA (2011)
- Panelist, Innovation Forum, Annenberg School of Communication & Journalism, USC (2014)
- Guest Lecturer, Specification and Design of User Interface Software Course, USC (2014)
- Guest Lecturer, Database Systems, USC (2011)
- Guest Lecturer, Data Informatics Professional Practicum, USC (2015)
- Speaker, The Montgomery Summit, Santa Monica, CA (2015)
- Keynote Speaker, Korean Investors & Traders Association Forum, Los Angeles, CA (2016)
- Panelist, Summit in Media & Tech, Hollywood Production Center, Los Angeles, CA (2017)
- Guest Speaker, Shanghai Investor Connect Road Show (2017)
- Guest Speaker, Plug and Play CHTA Disruptive Exhibition (2017)
- Guest Speaker, Integrated Media Services Center Retreat (2017)

Q:

Have any of your accreditations ever been investigated, suspended or removed? (if yes, explain)

A:

No.

Q:

On how many occasions have you been retained as an expert?

A:

Here is a subset of some of the cases wherein I have been retained as a software expert consultant:
• Tesla v. Cao (OCT 2020)
- Jurisdiction: Northern District of California
- Counsel: Jointly retained by The Norton Law Firm PC, Conrad & Metlitzkey LLP, and Rimon PC on behalf of Tesla, Inc, Guangzhi Cao and XMotors.ai
- Nature of Suit: Trade Secret

• Jeremiah Revitch et al., v. New Moosejaw LLC and Navistone Inc. (JAN 2020)
- Jurisdiction: Northern District of California
- Counsel: Bursor & Fisher, P.A.
- Nature of Suit: Corporate Civil Suit

• Stephen Choi and WikiTechnologies, Inc. v. Marco Garibaldi et al. (OCT 2019)
- Jurisdiction: Superior Court for California, County of Los Angeles
- Counsel: Artiano & Associates, APC
- Nature of Suit: Corporate Civil Suit

• H2O Resources, LLC v. Oilfield Tracking Services, Corrizo Oil & Gas et al. (SEP 2019)
- Jurisdiction: Eastern District of Pennsylvania
- Counsel: Hamburg, Rubin, Mullin, Maxwell & Lupin, PC
- Nature of Suit: Trade Secret

• Mimzi, LLC v. Foursquare Labs, Inc. (JUL 2019)
- Jurisdiction: District of Delaware
- Counsel: Barnes & Thornburg LLP
- Nature of Suit: Patent (IPR, Location-Based Services, Crowd Sourcing)

• Location Based Services, LLC v. Sony Electronics Inc. (DEC 2018)
- Jurisdiction: District of Delaware
- Counsel: Patterson Belknap Webb & Tyler LLP
- Nature of Suit: Patent (IPR, GPS, Location-Based Services)

• Calendar Research, LLC, v. Michael Gray, StubHub, Inc., eBay Inc. et al. (JAN 2019)
- Jurisdiction: Central District of California
- Counsel: Quinn Emanuel Urquhart & Sullivan LLP
- Nature of Suit: Trade Secret (Startups, mobile apps, merger and acquisitions)

• Certain Information Systems, Components Thereof and Automobiles Containing the Same (Broadcom v. Toyota Motor Co., Panasonic Co. et al.) (JUL 2018)
- Jurisdiction: United States International Trade Commission
- Counsel: Steptoe & Johnson LLP
- Nature of Suit: Patent (ITC, GPS Technology, Location-Based Services)

• UCAR Technology (USA) INC. and UCAR INC. V. Yan Li et al. (MAY 2018)
- Jurisdiction: Northern District of California
- Counsel: Ruyak Cherian LLP
- Nature of Suit: Trade Secret (Machine Learning, Artificial Intelligence, Self-Driving Cars)

• Seven Networks, LLC v. ZTE (USA) Inc. and ZTE Corporation (JAN 2018)
- Jurisdiction: Northern District of Texas
- Counsel: Pillsbury Winthrop Shaw Pittman LLP
- Nature of Suit: Patent Infringement (Smartphone Power Management)

• CYWEE Group LTD. v ZTE Corporation, ZTE (USA), Inc. and ZTE (TX) Inc. (JAN 2018)
- Jurisdiction: Southern District of California
- Counsel: Pillsbury Winthrop Shaw Pittman LLP
- Nature of Suit: Patent Infringement (Sensor Fusion, mobile sensors)

• Hitachi Maxell, LTD. v. ZTE Corp and ZTE USA Inc. (FEB 2018)
- Jurisdiction: Eastern District of Texas
- Counsel: Pillsbury Winthrop Shaw Pittman LLP
- Nature of Suit: Patent Infringement (CDMA, Power Management)

• Cellular Communications Equipment LLC v. HTC America Inc., HTC Corporation, ZTE Corporation, ZTE Solutions, Inc. and ZTE USA, Inc. (FEB 2018)
- Jurisdiction: Eastern District of Texas
- Counsel: Pillsbury Winthrop Shaw Pittman LLP
- Nature of Suit: Patent Infringement (LTE, 3G, UTMS)


Q:

For what area(s) of expertise have you been retained as an expert?

A:

My primary area of expertise is big data, information management, artificial intelligence, machine learning, mobile and internet software.

Hence, I have been retained primarily on cases related to above areas that require thorough understanding and analysis of their software architectures.

Q:

In what percentage of your cases were you retained by the plaintiff?

A:

About half.

Q:

In what percentage of your cases were you retained by the defendant?

A:

About half.

Q:

On how many occasions have you had your deposition taken?

A:

2

Q:

When was the last time you had your deposition taken?

A:

Mar 2020.

Q:

On how many occasions have you been qualified by a court to give expert testimony?

A:

6

Q:

For how many years have you worked with the legal industry as an expert?

A:

2

Q:

What services do you offer? (E.g.: consulting, testing, reports, site inspections etc.)

A:

I provide expert witness services in the areas of:

-Intellectual property and patent infringement
-Software design/source code inspection and review
-Startup Due Diligence, IP Valuation, M&A Considerations
-Software development disputes (breach of contract, non-performance claims, metadata analysis, etc.)
---
---
---
---