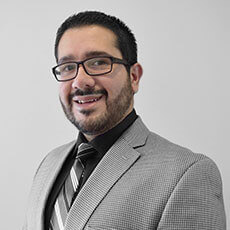 Alan Jalón, R.A.
The Falcon Group
Introduction
Mr. Alan Jalón is a Senior Architect within the firm with over a decade of experience in architectural design, sustainable design and building envelope consultation. He has a professional degree in architecture and a Master's of Science in Sustainable Design and has worked on projects in North and South America. His practice is focused on architecture, sustainability and envelope consulting, façade inspection and engineering of mid to high-rise buildings in Philadelphia and surrounding areas.

Mr. Jalón is responsible for business development and project management from inception through construction. His involvement throughout the various phases of design and construction allow him to provide clients with the best possible results. Mr. Jalón's multifarious building knowledge enables him to note deficiencies in existing construction and recognize potential issues in new construction. His ability to achieve appropriate construction solutions further enables his client to enhance their building investment. His experience in façade assessments and inspections, according to the Philadelphia Maintenance Code, further reduces building owner's liabilities and promotes public safety.

Mr. Jalón's understanding and experience in various ASTM building component testing allows him to successfully execute on building envelope commissioning and LEED projects. He has provided his expertise on ensuring that proper methods of installation and detailing are employed throughout construction. This is vital to ensure that the building envelope performs as intended and provides the client with an efficient enclosure that promotes healthy indoor air quality and reduces energy consumption. Mr. Jalón has worked on projects registered as National Historical Landmarks and UNESCO World Heritage Sites.

In addition, Mr. Jalón has taught at Philadelphia University at both the undergraduate and graduate level. He understands the value of continuing education in the ever-changing building and construction industry. He regularly attends seminars and workshops to stay informed of new technology, strategies, practices and techniques. His building knowledge and ability to effectively communicate allows him to provide the client with the best possible experience during the execution of the project.
---
Areas of Expertise
Architect Liability
Architecture
Civil Engineering
Doors
Scheduling Delay & Analysis
Water Utility
Windows
---